Ibeneme is commit No. 16 for TTU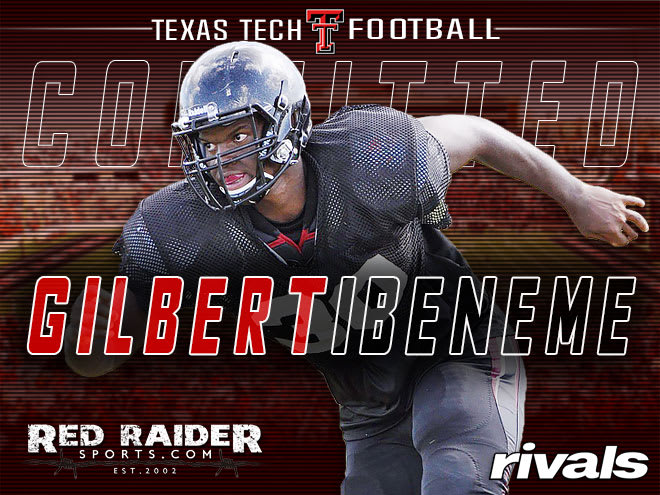 Pearland four-star defensive end Gilbert Ibeneme announced his commitment to the Red Raiders this afternoon, making him the program's No. 16 commitment in the 2019 class.
The 6-foot-3, 255-pound lineman officially visited last month and mentioned that he felt at home on the South Plains.
"On my official visit to Texas Tech, not only did I love it there, but my parents loved it as well," Ibeneme said. "The coaches really made us feel at home. Lubbock is a true college town and they are really big on football there, I really liked that.
"Plus, I was around the players a lot and we all went to this Top Golf type place together. They made me feel like I was part of the team already."
Ibeneme had several other options and could have delayed his commitment into the fall, but recently decided that it was his time.
"I was just ready to make my decision," Ibeneme said. "There was no time to wait, I talked with my parents and they knew I was really liking Texas Tech. My brother is there at Tech and I just decided that it was my time to commit.
"I sent Coach (Terrance) Jamison a text a few days ago, then we connected and talked on the phone. He was really excited and told me they were ready for me. I'm supposed to talk with the other coaches soon, but they have all been in contact with messages saying congrats and welcome to the family, things like that."
The coaching staff offered Ibeneme over a year ago and it was a group effort from the defensive staff to recruit the talented defensive end.
"Coach Jamison was my main contact from the Texas Tech staff, but I have been talking with Coach (Zac) Spavital and Coach (David) Gibbs a lot too," Ibeneme said. "When we talked, Coach Jamison mentioned that I would play the three or four technique in their defense. He really likes my size, my 'get off' the line and mentioned that he just needs big bodies to help disrupt the run game."
This time last year, Ibeneme was preparing for his junior season and added several Power 5 offers throughout the off-season. The standout prospect suffered an ACL injury very early in the season this past year and ended up having surgery last October, but now he is fully rehabbed and ready to make a big impact for the Oilers in his senior season.
"Yes, I had an ACL injury last season," Ibeneme said. "I had surgery in October and have been rehabbing ever since, but I'm back and ready to go. I have already gotten back into football drills this past spring and things have been going really good.
"We start team workouts next week and I'm ready. I was just sitting on the sidelines and watching other guys go after it. I watched other defensive ends throughout the state get the offers and recruiting attention. Now I'm ready to remind people what I can do and make a name for myself again this season."
After committing to the Tech coaches earlier this week, Ibeneme considers himself done with recruitment moving forward.
"I'm done with my recruitment," Ibeneme said. "My commitment to Tech is solid and I'm definitely going to try and recruit some other guys. I spent time with Tony Bradford and Keeyon Stewart, the North Shore guys, during my official visit. They were cool and we have been talking. There are some other Houston area guys in our class too.
"I want to stay in touch with everyone and see when we are all going to visit Tech again, but I know we have already talked about going to the game here in Houston against Ole Miss to start the season."
Currently rated a 5.8 four-star prospect, Ibeneme is the No. 23 overall rated strongside defensive end in the nation and the No. 41 overall prospect on the Rivals.com Texas Top 100 for the 2019 class.
He chose the Red Raiders over offers from TCU, Ole Miss, Texas A&M, Arkansas, Oklahoma, Minnesota, Virginia and others.