Three-star TE Simon Gonzalez is a Red Raider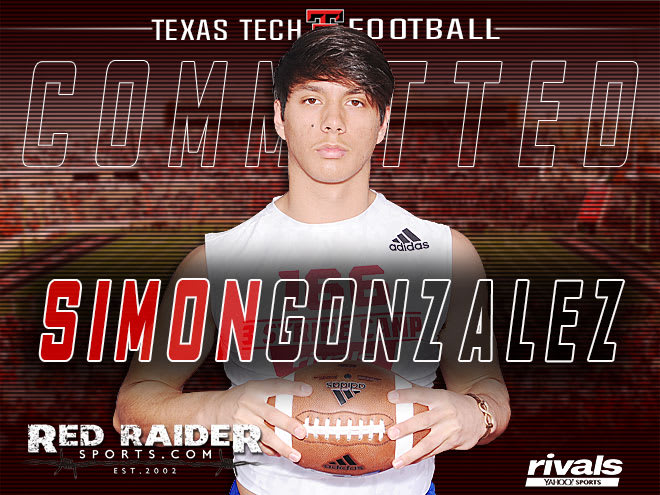 The Red Raiders have added their third commitment of the week and the fifth overall commitment for the 2019 class.
Following his official visit, Magn0lia West tight end Simon Gonzalez announced his commitment to Texas Tech on Friday.
The three-star prospect knew that Texas Tech was the place he wanted to be after the first day of the official visit.
"My Mom and Dad were with me on the visit and we all just kind of knew after the first day," Gonzalez said. "I didn't really have to say anything, they knew that I was really excited about the opportunity here at Tech. I'm just amazed at the abundance of opportunities available, both on and off of the field.
"I want to become an orthopedic surgeon some day, and on the first day, the coaches introduced me to the president and lead professor of the medical school at Texas Tech. The hospital and entire medical facilities are connected to the campus, and that is only one of the hospitals in the general area.
"They even arranged for me to meet with a local orthopedic surgeon, and that really impressed me because the coaches went above and beyond to arrange everything. It opened my eyes to the opportunities at Texas Tech and really made up my mind about committing to the university."
On the football side of things, Gonzalez shared more about meeting with the coaches and how he will fit into the Red Raider offense.
"I sat down with coach (Kevin) Johns and coach (Kliff) Kingsbury to watch some tape," Gonzalez said. "They see me lining up along the line to block on running plays and also flexing out into the slot or inside receiver position to catch passes. I'm at 225-pounds now and will certainly continue adding weight this off-season, so I could be much bigger this time next year. Coach Johns needs a tight end with my skill set to help with their offense and I'm excited to fill that role."
Gonzalez was hosted by true freshman quarterback Alan Bowman and seemed to really enjoy spending time touring campus with the Texas Tech signal caller.
"It helped that Alan (Bowman) was my host, because he joined us and was able to talk with me about the offense. I wasn't sure what to think about Lubbock before the visit, but he showed me around the town and around the campus. There is a lot to do there and much more than you see driving in from the airport. I really liked Lubbock."
Before leaving town, Gonzalez met with Kingsbury and gave him the good news.
"Well, I went into that meeting knowing that I wanted to commit, but I didn't want to interrupt coach Kingsbury," Gonzalez said. "He talked with us about Texas Tech and spoke with me about how much they wanted me at Texas Tech. After he finished, I told him that I was ready to commit and the coaches were surprised. They were surprised in a good way, but I don't think they were expecting me to say that."
After giving his commitment to Kingsbury, the standout prospect mentioned that his recruitment is now over.
"Yes, I'm committed to Texas Tech and I'm excited for the opportunities there," Gonzalez said. "I actually called some of the other coaches that had given me opportunities and let them know that my recruitment is over. I look forward to getting to know the other commitments and possibly getting other guys committed to our class."
Currently rated a 5.6 three-star prospect, Gonzalez chose the Red Raiders over 21 other offers, including offers from Arizona, SMU, Virginia Tech, Arizona State and several others.
He finished with 28 receptions for 600 yards and seven touchdowns, earning District 20-5A All-District First Team Offense honors this past season.