Football is in Kingsburys blood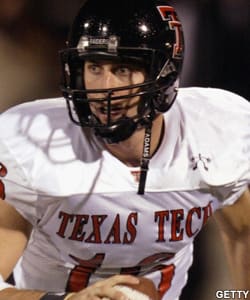 Kliff Kingsbury
, Texas Tech's new head football coach, grew up with a solid foundation of support behind him.
His mother, father and older brother Klint were active in his life, and Kingsbury lived the early phases of the American Dream. He was a great athlete, but was taught not to rely on the golden arm with which he was blessed. He was taught to use his brain, treat others as you would want to be treated and to always remember what is truly important in life.
When former New Braunfels head football coach Tim Kingsbury and his wife, Sally -- who died after a lengthy battle with sarcoma in 2005 -- let Kliff out of the house to make his own life, at least the young man had a sense of direction. Whatever happened after that was up to Kingsbury.
Just 14 years later, at 33 years old, Kliff Kingsbury is described by his father as a success. That is the ultimate achievement in life for any parent.
To see thousands of people from across Texas and New Mexico arrive at the United Spirit Arena to celebrate probably the most popular new coach in Red Raider history, that's just a bonus.
"It was very exciting," Tim Kingsbury said. "I'm very happy for him. It's been quite a ride the past couple of years."
You already know what Kliff Kingsbury did at Tech as a player, and at Houston and Texas A&M as a coach, and how he has united the Red Raider fanbase.
It hasn't always been easy and Kliff Kingsbury admits his dream growing up was to be an NFL quarterback, but that just wasn't in the cards.
But Kingsbury didn't let being a football player define his life. After exiting the Canadian Football League in 2007, he emerged at Houston as an assistant coach under offensive coordinator
Dana Holgorsen
and quickly began climbing the ranks.
Some of it is luck. There are a lot of great assistant coaches that spend decades working up to the title of head coach while Kingsbury accomplished the feat in five years. Helping Texas A&M freshman quarterback
Johnny Manziel
win the Heisman Trophy during his first and only year as the Aggies' offensive coordinator certainly didn't hurt.
"He's put in a tremendous amount of work," Tim Kingsbury said. "He's very dedicated to the coaching profession. Of course, he was that way in high school and in college also. As far as being surprised he did it that early at this level, being in the Big 12 as a head coach after five years of coaching, that is a little surprising.
"But it doesn't surprise me he ended up there and at that level. It's just the fact he's so young and there are so many coaches who have been coaching a long time and not had the opportunity. He's very aware of how fortunate he is and things have just fallen into place."
Tim Kingsbury understated how hard his son has worked. That got revealed later in the conversation.
"He was a talented athlete, but I think what set him apart from some other athletes is his work ethic," Tim Kingsbury said. "While a lot of the other kids were out Saturday night on dates and at parties and that kind of stuff, a lot of the times he'd be at the high school throwing into the nets. He was very focused and he's always been that way since he started playing sports when he was eight or nine years old.
"I think growing up in the coaching specialty he saw that and how hard coaches work and how hard the kids in our program worked. He was just raised in that philosophy and it's carried on throughout his career."
Kliff Kingsbury was drawing plays for his father before he was even old enough to play football. The father and son would then break down why the play would or wouldn't work and the younger Kingsbury would watch with extreme concentration when the father would draw his own plays.
But Tech's new head coach is more than just a coach. He was popular as a student-athlete in Lubbock and he was involved on campus.
A decade later he has returned as a cult hero in this area of the globe. For one reason or another, it seems everyone in Lubbock has a reason to be excited about the return of Kliff Kingsbury. That's a big deal because not everyone likes football.
"He's just a normal person," Tim Kingsbury said. "For me, he's my son. He's a brother. He's very outgoing. Just a normal person, nothing too much. He likes to fish and do, you know, all the things normal people do."
Normal.
But for Kliff Kingsbury, his introductory press conference wasn't normal. He was on a stage in front of thousands of Tech fans.
It would have been easy to get caught up in that moment. It would have been easy to get caught up in himself more than a handful of times as a player, the nation's most intriguing assistant coach and now as a very young head coach.
But that's just not Kliff Kingsbury's style.
He was more than happy to talk about his family support network.
"My dad's fired up," Kliff Kingsbury said. "He sent me a text right after I got it, he said, 'You mean I can throw all this maroon away now?' So some of his greatest moments with my mom were coming out here. They met some of the best friends in their entire lives out here watching me play. So this means the world to them."