Five-star Trae Young looking forward to Texas Tech visit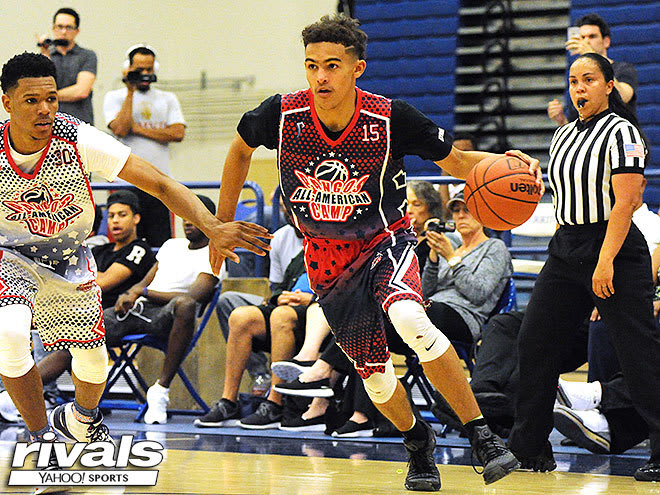 Texas Tech is hosting one of its most high-profile recruits ever this weekend when five-star point guard prospect Trae Young will be in town for the Red Raiders' football game versus Kansas game on Thursday and then will stick around the South Plains for the rest of the weekend.
Young, who is currently ranked as the No. 14 player in the country, has a lot of connections to Lubbock as his dad, Rayford Young, played basketball at Texas Tech from 1996-2000. The standout 2017 prospect is ready for the chance to get back home to Lubbock.
"I'm very excited," Young said. "I haven't been back home in a long time. I was born in Lubbock, so it is pretty cool to get to go back. I know it's going to be a crazy weekend with the Thursday night football game and everything going on there. I know there will be some crazy fans. It will be fun with a great atmosphere, and I'm going to be looking forward to it."
Young has a lot of things to look forward to about his trip to Lubbock. He hears stories all the time from his dad about playing in the United Supermarkets Arena, and he hears some good stories about the fans, too. Both are big aspects that Trae is excited to experience for himself this weekend.
"I'm really excited to go down. I remember seeing videos of my dad's shootarounds before games and go in to practices and watch him practice shooting on the court. That's definitely something I am looking forward to, just being in that arena again and be able to look around and have that feeling again. Just reminisce a little I guess you could say. I'm looking forward to that, and I know their football games are exciting and crazy, too.
"My dad said that they fans are crazy for every sport. Football is obviously a big thing in Texas, so I know that it is a big football state. The fans their love football, but I know they will get just as rowdy and crazy for basketball, too, according to my dad. I'm ready to see it."
With more than 20 offers to his credit, Young including Texas Tech in his final six was a big deal, both for the Red Raider program and its fans. When news got out that Young would be using one of his five official visits to come to Lubbock, the excitement grew even more. Despite all the other interest, Young always had a feeling that he wanted to take a trip back to Texas Tech.
"With coach (Chris) Beard getting there and coach (Chris) Ogden going there," Young said, "I knew that that was a program that I would want to consider. A little bit has to do with my dad going there, but really, I just see their program with the new hire and the players they have in Zach Smith and Keenan Evans and all those guys, and I know their program is heading in the right direction. With those reasons, I was definitely going to consider them, and I feel that was a great reason for me to take an official and see it a bit more and be more in depth with what the school has to offer."
While it will be fun to get back to the town in which he was born and see everything about the university that his father played for, Young sees the visit as a business trip. He has a big decision coming up, and he needs to make sure he thoroughly looks at every program before making a decision.
"One thing that I'm looking for, wherever I go, is that I want to win right away. I want to make a big impact early. I know that I'm going to have a good chance of winning at Oklahoma, Kentucky and even Texas Tech. I just want to go somewhere where I can win and make a big impact.
"Something about me, though, I like the fact of being different. I don't mind being different. As long as I am in the best situation for me and my family, that's all that matters at the end of the day. I want a good situation where I can win early and make an impact in March. March is where a guy like Steph Curry made his name. It wasn't the school being a big name, it was in March. Damian Lillard went to a small school (Weber State), and he showed up in the conference championship and made a name for himself."
The five-star prospect is also looking forward to meet his potential teammates – both current players and current commits – and is excited to sit down and talk with Beard about the system that they run. Young knows he has a lot on his plate, but is ready to just take it all in.
"One thing I want to know is who I'll be playing with and who I would know if I go there. I know they just got a big commitment from a big-time recruit in my class in Jarrett (Culver). I know him pretty well from playing on the summer circuit, and he is a great player as well.
"I just want to know who I would be coming in with and what kind of system they run. I know coach Beard has won everywhere he went. I know he is going to find ways to continue that success at Texas Tech. I'm just going to enjoy it, have fun, and look at everything."