Fields cherishes moment, hopes to improve moving forward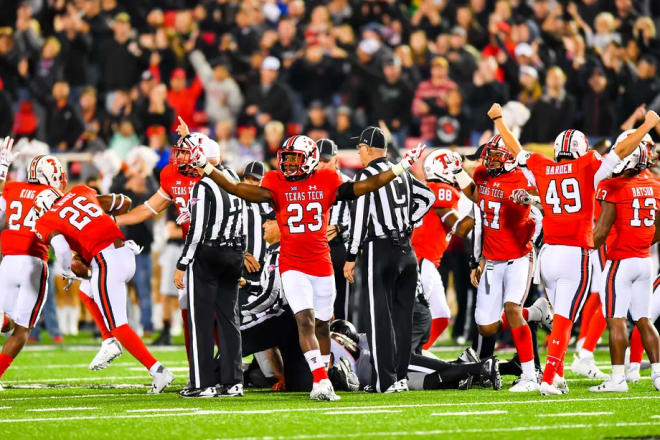 DB DaMarcus Fields hails from Taylor (TX) – home of the Taylor Ducks. Taylor's population back in 2010 was roughly 15,000 people.
Fields said being from a smaller school made him respect where he comes from and where he's at today.
"Being from a small town is what drives me everyday," Fields said. "I think every small-town kid should have big dreams. We are all here at the end of the day so anybody can can do whatever they want to."
Fields is a redshirt freshman this year. He sat out last season after dealing with early injuries, but he said that time off paid off in his self-evaluation.
His admiration for the game of football grew in direct correlation with his mind.
"Me being out really made me love the game even more," Fields said. "I cherish those moments I was gone because it made me love football. It opened my eyes to a lot of things. It made me mature, if I can say anything."
Against Oklahoma State, Fields added another moment to his memory to feel good about.
Fields picked off Cowboys QB Mason Rudolph and zoomed his way to the end zone to tie the game at seven apiece.
"I was enjoying the moment," Fields said. "I was out for so long and I was just really enjoying the moment. The fans are great. I was just looking at the atmosphere, my friends and my teammates really. That play wouldn't have been possible without my teammates."
Fields added that he studied Oklahoma State star WR James Washington all week in practice.
"The way he came off looked like he wasn't getting the ball," Fields said, "so I looked at the quarterback and he threw me the ball; can't complain. I went in and did what my coaches tell me to do everyday – catch the ball and go score."
The following Monday, Fields was honored with the Big 12 Newcomer of the Week award.
He said this is something that he is proud of, but to expect him to be more than just a newcomer.
"That's just a stepping stone – a milestone," Fields said. "I just want to keep going. It's always up from here, to me."
Even with the loss, Fields explained that the team can't look back at the game anymore. They must move on to Kansas with the rest of the Big 12 following.
He mentioned that his demeanor to compete is what he wants to share with his teammates – and DBs Octavious Morgan and Vaughnte Dorsey are already there for him to go head-to-head with.
However, he said he learns a slew of things from both JUCO transfers.
"I really learned how to grind from them. Since I was young, and watching them, I've always had to compete," Fields said. "They make me work harder in school and on the field."
This sense of being a competitor isn't something new to Fields. He flies on the field but also competes at home through video games.
His go to game is Madden or Call of Duty. His main competition – his roommate WR T.J. Vasher.
Being that tough competitor has paid off for him early on in his career.
When asked about the competition in front of him, Fields said it's nothing but respect for his teammates. What does matter, though, is who shows up and does the job.
"I love competition; it's a sport," Fields said. "Everybody is out there competing at the end of the day so whoever really wants it is going to get it."
Fields transitioned that statement by bringing up one of the team mottos – "Texas Tech versus everybody" – and what exactly does that translate to for Fields?
"It means everybody had us down – we're the only (people) that got each other's back," Fields said. "They're not going to show us respect – we're going to earn it, that's how I see it."