Felton hoping to rise to top dog at tailback through consistency, growth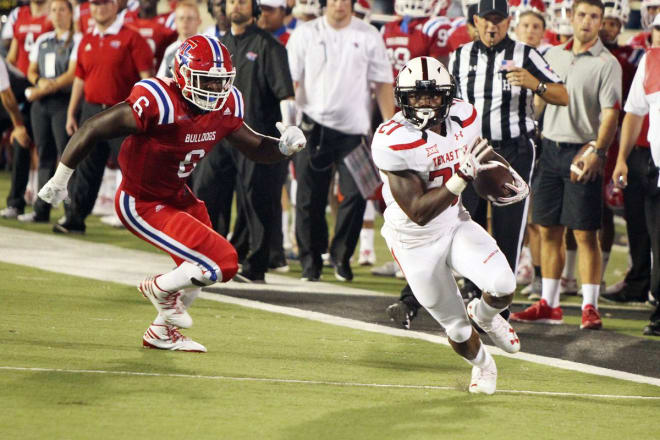 Fall camp has officially been christened, as the Red Raiders held their first practice on Monday afternoon in preparation for the upcoming 2017 season.
With those practices come some of the hottest competition days of the entire year, both literally and figuratively, as a number of position battles will undoubtedly come down to the wire as the players vying for a starting role attempt to prove their worth.
How they'll do often comes as a result of how much work they put in over the summer to prepare themselves for the exhausting rigors of fall camp itself, readying their body for the physical toll and their mind for the technical proficiency required to sharpen their skill set as a player.
If you ask junior tailback DeMarcus Felton, he'll tell you it was one of the best summer's this team has had during his time as a Red Raider.
"I felt like our summer went really good. I think the team really gelled together more than it ever has. Guys are hanging out more than ever, after practice, after workouts, all those things. The team is coming together as one. I think it's really that everybody wants the same thing. When everybody wants the same thing, you're going to do whatever you can do to get to that point."
And what everybody wants is to win. They want to find success, both as a team and individually, especially after what was nothing short of a majorly disappointing 5-7 campaign.
For Felton, that's going to be a tall task, as he's fighting for a role and starting job in what will be the most tightly contested position group battle of all fall camp. The running back room doesn't have a clear cut favorite right now, and it's a competition that very well may bleed over into the season itself.
The junior and Houston native knows that very well, and he's happy to be in a position group that's so competitive.
"We're very competitive in that room. We never want to let a day just get by. We don't want nothing like that. We always put an emphasis on competing. If J Stock wants to break one, I try to make it longer than what he did and make it into a spectacular play. We always try to compete like that, and there's just never a dull moment."
Before he left to be the head coach at Bowling Green following the 2015 season, former running backs coach Mike Jinks always made sure to make mention of Felton if you asked about the guys in his room. Jinks never shied away from heaping praise on the then-young tailback, noting that if his older teammates ever took their foot off the gas, they might never get back onto the field once Felton got on it.
The five-foot-seven jitterbug showed you why when he had the ball in his hands early on, too. He was slippery, had an extra gear, and he was flat out hard to find because of his short stature.
Felton had a clear cut chance to overtake Justin Stockton as the starting running back early on last fall, but he wasn't able to seize the opportunity, missing time due to injury and later falling behind true freshman hot hand Da'Leon Ward. It was a disappointing sophomore campaign, and he'd likely be the first one to tell you that.
The good news for Felton, and really the entire room, is that Jabbar Juluke is the new sheriff in town coaching the running backs, giving everyone at the position a clean slate to show him what they can do. It's a level playing field, and the starting job is up for grabs.
What Felton really loves about his new position coach, however, is the open line of communication. The RB feels comfortable coming to the former LSU tailbacks coach about anything, something he may not have had before.
"With Coach Juluke coming back, even with all of the other past running back coaches we've had, we can talk to him about anything. He puts a real emphasis on that. We can come talk to him, and it doesn't have to be anything about football."
"It's very comforting to have a coach like that, because it really shows that he cares. At the end of the day, football isn't everything. Football doesn't last forever. We can talk to him about life, and that means something."
On the field, Juluke has made it clear what he needs Felton to work on and emphasize, too.
"He really wants me to work on staying low in the hole. It's about slow to, fast through. That's our motto. It's about staying low through the hole and not allowing anyone to tackle you when you're in it."
In order to do those things, however, Felton knows he has to stay steady and make sure he's never letting up, particularly with his physicality. It's a simple matter of consistency if the junior wants to take that next step and become the starting tailback this team needs.
"Coming into the spring I was really focused on staying healthy and making sure to finish my runs, just staying being physical and not allowing it to just be a sometime kind of thing. It's about running the ball and putting an emphasis on us making a statement that Texas Tech can run the ball."
"I just need to stay being consistent. In order for me to have the kind of year I want to have, it's about staying consistent and making sure I keep my body healthy. It's about doing that and giving it everything I've got."