Hood, Kaaya, Jefferson among next group in Farrell 50
PREVIOUS: Nos. 41-45 | 46-50
With the college football season nearly upon us, it's time for another installment of the Farrell 50, the top 50 college football players in the country. However, as usual here at Rivals.com, we take a quick look at how each ranked out of high school and if they are exceeding or simply living up to expectations.
We are unveiling five per day leading into the start of the college football season.
Today we continue with Nos. 36-40, headlined by a pair of prolific ACC running backs.
Mark Pszonak contributed to this report.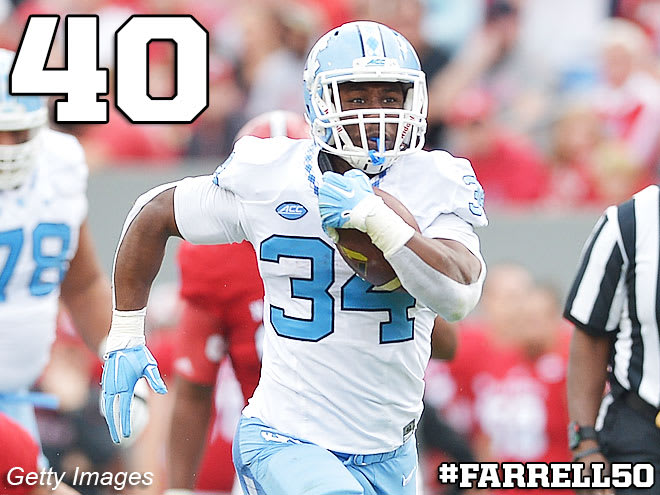 The skinny: After originally committing to Notre Dame, Hood re-opened his recruitment before the beginning of his senior season. North Carolina, due to its proximity, immediately became the favorite as Hood wanted to play in front of family and friends. He committed to the Tar Heels a week later. After an uneventful freshman season, Hood flourished in North Carolina's offense last fall. Rushing for 1,463 yards and 17 touchdowns, Hood demonstrated all of the skills that made him a five-star prospect in 2014.
Farrell's take: Hood was a high character kid whose junior film really impressed me. What impressed me more was his ability to work in space and catch the ball in camps. This is why I'm not surprised he flourished in a spread offense despite having the build of a downhill runner. He was part of an amazing group of running backs at the Rivals100 Five-Star Challenge Presented by Under Armour in Chicago with guys such as Leonard Fournette, Sony Michel, Joe Mixon and Jaques Patrick. He's one of the best Charlotte-area prospects I've scouted in recent history.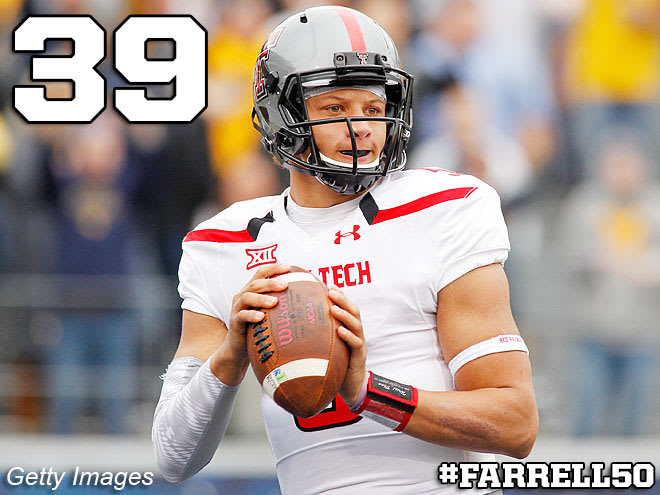 The skinny: With in-state offers from Texas Tech, Houston and Rice, Mahomes decided not to wait his recruitment out and committed to the Red Raiders before the end of his junior year of high school. Mahomes saw playing time as a true freshman in 2014, after starter Davis Webb went down with an injury. He followed that up with a huge 2015 season, accounting for more than 5,000 yards of offense and 46 total touchdowns during a 7-6 campaign for the Red Raiders. More of the same is expected from Mahomes this fall, as he is again set to lead Texas Tech's prolific passing attack.
Farrell's take: Mahomes was a big, dual-threat who checked in at No. 12 at his position and just shy of a fourth star. We don't base rankings on offers, which is good for Mahomes as he didn't have many. But we also don't base them on stats, and Mahomes' numbers in high school were ridiculous. Perhaps we should have seen a bit more from him out of high school as he's out-playing his ranking for sure.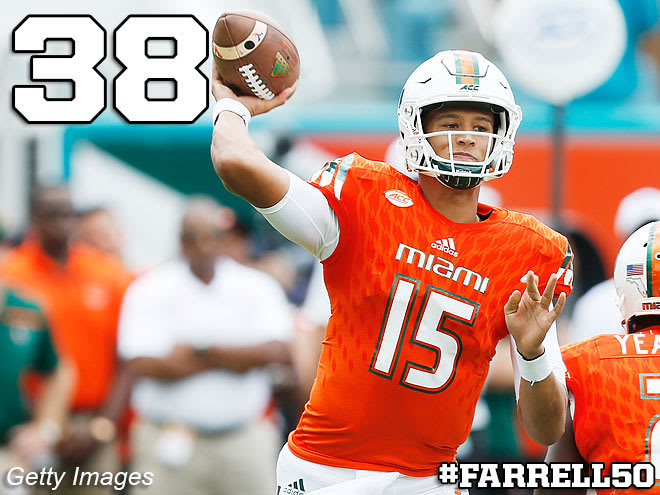 The skinny: Kaaya committed to Miami during the spring leading up to his senior season after also picking up offers from in-state powers USC and UCLA. There were rumors of a possible flip to UCLA, and he took an official visit to Boise State in late December, but Kaaya honored his commitment and signed with the Hurricanes. At Miami, Kaaya became the starter from day one. In his two seasons, he is 13-12 and has passed for 6,436 yards, 42 touchdowns and 17 interceptions. Now everyone will be eager to see how he performs in Mark Richt's offense this fall.
Farrell's take: Kaaya takes the next step under Richt this season and I leads Miami to a division title. He's a guy who has started since his freshman year, and I love that (like Jared Goff) because it allows you to grow under tough circumstances. Kaaya has the size and intangibles to be special. He needs to showcase better consistency with his decision-making, and could also use some more weapons around him. This is a huge year for him as he could push for the No. 1 quarterback spot in the 2017 NFL Draft. He was a four-star out of high school who needed to fill out, but that could also have been said about Goff.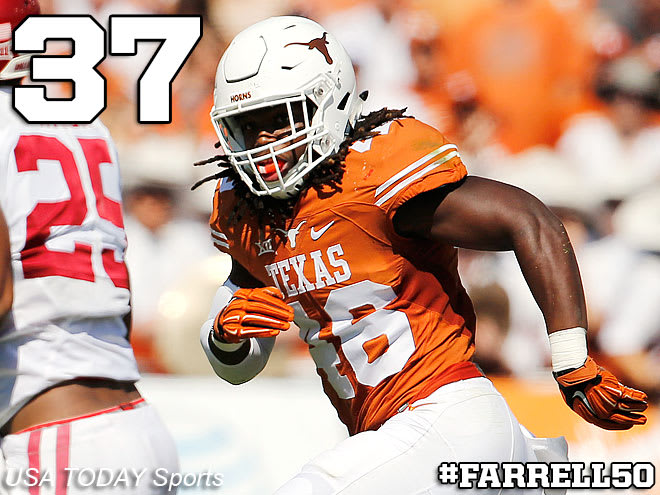 The skinny: Jefferson took November and December official visits to Texas, LSU, Texas A&M and UCLA before committing to the Longhorns a week before Christmas. It was a huge recruiting victory for Texas and Charlie Strong, who pulled Jefferson away from the Aggies. While the Longhorns experienced their fair share of difficulties on the field in 2015, Jefferson became a huge positive. The true freshman finished with 61 tackles, seven tackles for a loss and 2.5 sacks, in what Texas fans hope is just a start of bigger things.
Farrell's take: Jefferson was a fun kid to cover, a driven player who made sacrifices like pushing through family hardship to play in the Under Armour All-America Game when he could have easily gone the local U.S. Army All-American Bowl route. This kid knew what he wanted and he did everything he could to make it happen. Jefferson was a five-star and he has certainly delivered for a Texas defense that is young and improving. His early impact has been ahead of schedule even for someone ranked so high and he's become a leader on the team at such a young age. He's always been an impressive young man and he's maturing before our eyes.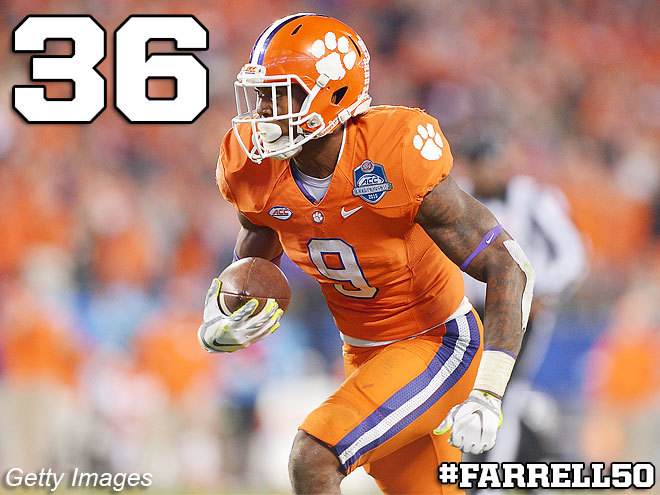 The skinny: Gallman was in the process of seeing his recruitment blow up when he decided to end it early with a commitment to Clemson in early April. At the time of his commitment, Gallman was also important for the Tigers because of his high school teammate Robert Nkemdiche, who was the No. 1 recruit in the nation. Nkemdiche did originally follow Gallman to Clemson, but at the end re-opened his recruitment and signed with Ole Miss. With the Tigers, Gallman made an immediate impact in 2014, and then fully hit his stride during the Tigers' magical season last fall with 1,514 yards and 13 touchdowns. Look for more of the same this fall.
Farrell's take: Remember when Gallman was just Nkemdiche's teammate? As a junior he put up moderate stats and some felt he was gaining offers from schools trying to curry favor with his nationally ranked No. 1 teammate. We had Gallman as a high three-star and he has played like a high four-star and rising. He's big, hits the line of scrimmage hard and has some wiggle. But what I like the best is his toughness and durability.