Fall Camp Preview: The Running Backs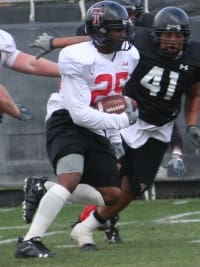 The Red Raider football team will open up fall camp in less than a week when they take the practice field on Monday August 4th. As the countdown to practice begins, RedRaiderSports.com will breakdown each position heading into camp with in-depth position analysis. This afternoon we break down the tailback position. Will someone step up and grasp the starter's role or will it be by committee?
Biggest Question: Does someone step up or do they go with a committee?
Texas Tech has been searching for Taurean Henderson's replacement since he graduated after the 2005 season and they have yet to find one. They have fielded some very talented backs the last two seasons but have yet to find the man that could do it all in the backfield. This fall camp appears to be more of the same although the three talented options all bring something unique to the table. With senior
Shannon Woods
you have the experience. With
Aaron Crawford
you have a tough youngster that got better and better the more he played toward the end of last season and has turned one weakness into a strength which is catching passes out of the backfield. Then there is the wildcard in sophomore
Baron Batch
. Batch is a tough inside runner. Batch is an excellent blocker. Batch also possess' the pure speed that coaches covet. Can he stay healthy is the question. Does one of these guys step up and grasp the starting role or does running backs coach
Seth Littrell
use all three to start the season and continue to look for the answer throughout the season?
What We Know Right Now: Depth doesn't appear to be a problem
While running backs coach Seth Littrrell may not have his "guy" yet, he does have a trio of very talented options to choose from. Aaron Crawford has started for this team before. Shannon Woods has started for this team before. And Baron Batch might have the best package of skills of all three which is why he might have started last year if everyone involved would have been willing to burn his redshirt. We know that Littrell won't have Kobey Lewis, an ideal complimentary back, because of his suspension for the 2008 season. Replacing Lewis won't be easy either because he was who Littrell went with in crunch time last year in the Red Raiders' two biggest wins: Oklahoma and Virginia.
Fresh Fall Camp Faces: Harrison Jeffers
Harrison Jeffers
comes in on paper as the most talented running back prospect Mike Leach has ever signed but a few issues could exist with Jeffers. First, Jeffers came in late this summer due to eligibility issues so he will likely be behind with his conditioning and playing at the level that trio on campus are currently capable of because of the off-season program they've just recently gone through. Secondly, Jeffers might have an issue with a staph infection that could prohibit him from being 100-percent as fall camp starts. Jeffers has been on antibiotics recently and has been told by doctors that his infection is gone, completely gone so hopefully that is the case so Jeffers can get on the field and start battling for playing time.
Early Camp Prediction:
Seth Littrell is looking for answers right now and there is a chance he might not find any. Unless an unexpected injury occurs to one of the three backs on campus, Littrell is likely to have a tough, tough decision to make on Saturday, August 30th when the offense takes the field. I just don't see Crawford, Batch or Woods backing down and losing any ground to the other two. Add four-star signee Harrison Jeffers to the mix and you've got a pretty good situation on your hands. I'm not sure if a "guy" will emerge but this position's productivity shouldn't be an issue this season based on what we saw this spring.