Fall Camp Preview: The Quarterbacks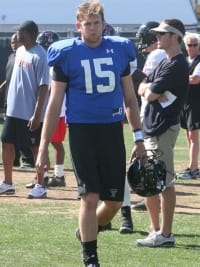 The Red Raider football team will open up fall camp in less than a week when they take the practice field on Monday August 4th. As the countdown to practice begins, RedRaiderSports.com will breakdown each position heading into camp with in-depth position analysis. This afternoon we breakdown the quarterback position,
Graham Harrell
is the starter and
Taylor Potts
is the backup or is he?
Biggest Question: Will Potts improve after struggling this spring?
Mike Leach
isn't worried about it so why should we? Having said that though, Graham Harrell's back-up didn't play particularly well this spring. It seemed like he never found that rhythm it takes to lead this offensive unit to score after score. Potts appeared erratic and he'll need to improve upon that in August. There isn't a better kid on Texas Tech's roster than the big sophomore from Abilene but that isn't what he'll ultimately be judged by and everyone understands that.
What We Know Right Now: Harrell is the man
Texas Tech has one of the best starting quarterbacks in all of college football in senior Graham Harrell. Only five quarterbacks in the history of college football have thrown for more than 5,000 yards in a season other than Harrell which speaks to how well he ran this offense last season. This is Harrell's team and everyone knows it. We also know that sophomore Taylor Potts is clearly the backup to Harrell and that isn't going to change. We also know that sophomore Steven Sheffield and redshirt freshman
Stefan Loucks
will battle it out to see who is the third team signal caller. However, neither Sheffield nor Loucks appear ready to run this offense effectively yet.
Fresh Fall Camp Faces: Seth Doege
He's not a fresh face simply because he was here during the spring, but true freshman
Seth Doege
is the "new" guy in the mix. Doege is as naturally talented a signal caller as Mike Leach has ever had but he's battled knee injuries in the past which kept him from playing his junior and senior seasons. What Doege also has going for him is the "it" factor. Teammates are drawn to Doege's leadership and he has a B.J. Symons/Sonny Cumbie like competitive nature about him that his coaches like, especially Leach. Doege will redshirt but he's one to watch for the 2009 season.
Early Camp Prediction:
Hopefully this is the most boring position to monitor in Fall Camp because the starter is there in Graham Harrell and Taylor Potts is firmly entrenched as the backup. Two things you will likely see in my view is Taylor Potts improve upon his spring effort and the emergence of Pott's main competition for the starter's job in 2009 in Seth Doege.