Duffey, Lake Ridge experiencing perfect season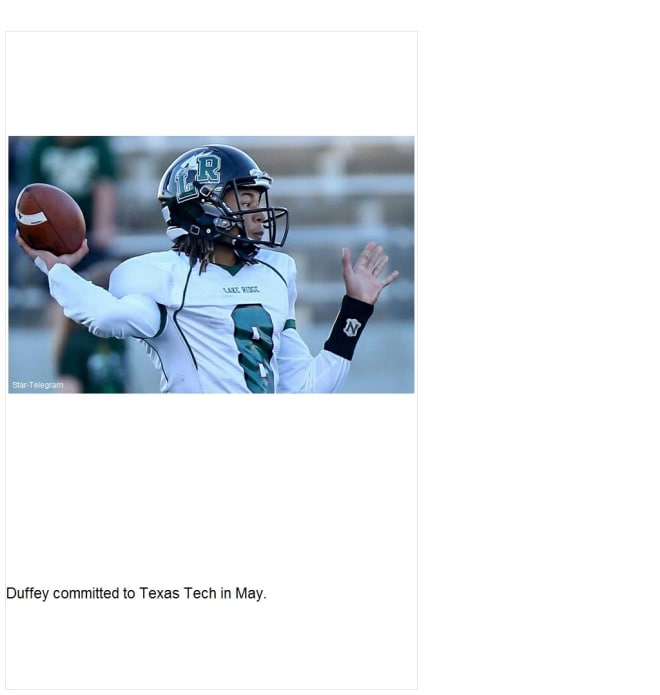 As the Texas high school football regular season continues to wind down,
Mansfield (Texas) Lake Ridge quarterback Jett Duffey is on the verge of leading
his team to its first undefeated regular season and continuing to show why he's
the lone QB commitment in his class.
In last week's contest against Mansfield Summit, Duffey accounted for 374 total
yards and 7 touchdowns in the Eagles' 55-35 win over the Jaguars to push Lake
Ridge to 9-0 on the year. With the Eagles' regular season drawing to a close
this week, the 2016 commit admits to highly anticipating joining the Red
Raiders' quarterback club when his time at Lake Ridge winds to a close.
WHAT'S NEXT?:
Duffey and the Eagles will look to cap off their unbeaten regular season with a
victory on Friday against Arlington Seguin. Seguin is currently 5-5 and the
Cougars are currently on a four-game losing streak.
IN HIS WORDS:
On whether he has any more visits planned and his thoughts on Lubbock: "No,
there aren't any. I have already taken my official (to Texas Tech) and I loved
everything about it, including the fans."
On how he sees himself in the program: "I see the program fitting me extremely
well. Coach [Kliff] Kingsbury is a great coach and I think he will be able to
teach me a lot. I feel as if Tech is on the rise, will be a major program one
day and shock everyone."
On potentially leading Lake Ridge to perfect season: "To leave Lake Ridge with
its first undefeated season would mean a lot not only to the team and myself,
but to the community as a whole. If Lake Ridge has an undefeated season, it will
show how great the program really is."
OUR REACTION:
Duffey's senior season has gone better than likely anyone could've expected, and
he's looking to lead Lake Ridge on a special postseason run, hopefully
culminating in a state title. Duffey is all about the Red Raiders, and the
coaching staff can't wait to get him on campus as an early enrollee in January.
-- Will McKay