Dorsey's energy the driving force behind hopes to start at safety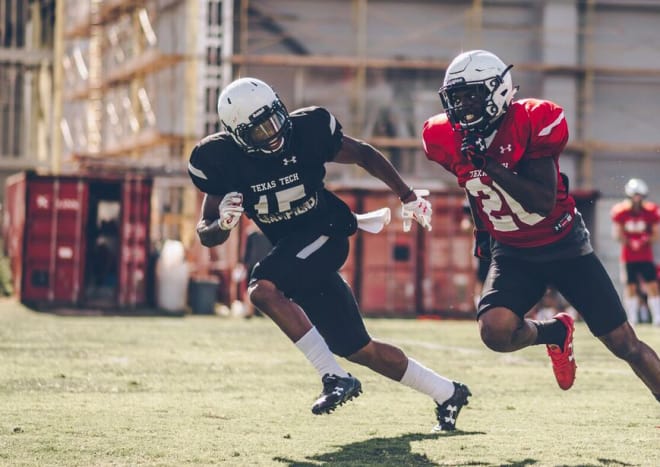 There are a handful of highlight position battles every year that rage on throughout fall camp. Close calls on starting jobs bleed over into the summer which then come to a head in the weeks leading up to the first game of the season.
One of the most heated contests this fall appears to be going on at right safety. Sure, veteran and junior Jah'Shawn Johnson undoubtedly has his starting role locked down at the left safety spot, but who will ultimately earn the prize as his running mate on the back end of the defense is still up for debate.
Kisean Allen manned the duties at right safety for most of 2016, but he has a competitor right on his heels in JUCO transfer Vaughnte Dorsey. In fact, many would actually consider Dorsey the favorite to win the job.
The Mississippi native joined the program back in December, coming in with a full head of steam while trying to sponge up anything and everything about the new defensive system he'd have to crack. Luckily, the former Mississippi Gulf Coast star says he's had a ton of help from everyone inside the program.
"It's been a great experience for me so far. The coaches and my teammates really have helped my process of coming along be really easy, so it's been great so far," noted Dorsey. "The coaches have made everything really easy to understand, helped me to understand the system, the way things work, and it's just been about buying into the system, doing what they ask of me."
But, there are always a few bumps in the road when you're learning. That was the case for Dorsey while trying to pick up the new system, but his teammates noticed one thing from the get go: He was going to hit those bumps with the pedal to the metal.
"There are times with Dorsey where he's just flying in there," said fellow safety Jah'Shawn Johnson. "In the spring, he may not have been doing the right thing every play, but he's around the ball every play. If you're going to mess up, you need to mess up going 110 miles per hour. That's one thing he's done."
And above all, that's Dorsey's biggest priority: Be a human football magnet.
"From a young age, I really learned that being around the ball, making sure you get to the ball, can sometimes just lead to you making a play. You just never know. That's my outlook on it. It's about making sure I go 100 miles an hour, no matter what."
"That's my outlook on it. It's about making sure I go 100 miles an hour, no matter what."
The best safety duos in football are often the ones that vibe on the same wavelength, and if you ask Dorsey, he may have found his perfect match in Jah'Shawn Johnson. When they're on the field together, the first year Red Raider feels that he and Johnson feed off each other's energy to their own benefit.
"Jah'Shawn is very energetic. He's very energetic and competitive right along with myself. When you compete the way he wants to compete, if you want to win the way he wants to win, whether it's a rep or the whole battle, it's a great feeling being out there with him."
But that fire isn't something that Johnson and Dorsey share exclusively. The junior DB has been impressed with the competitive nature of the entire secondary from day one.
"I feel like the competition level is very, very high here. Personally, I've never been a part of something so competitive like this is now. Everything we do is about competing. It's a competition at all times, whether that's with ourselves or with others on the team," he said. "Nobody likes to lose. So, for one of us to have to lose to the other one, it brings out a bit of another character in you. It makes you want it more, whether its on the field, bowling, playing spades, or whatever it might be. We don't want to lose."
And if you ask Dorsey, competition is what will continue to stoke this defenses's drive if they're truly going to become a better unit in 2017.
"In order for us to keep having the kind of fall camp we need to have, it's important for us, once again, to keep up the competition level. You just have to keep that competitiveness going. It has to be competitive."