Denley solid with Tech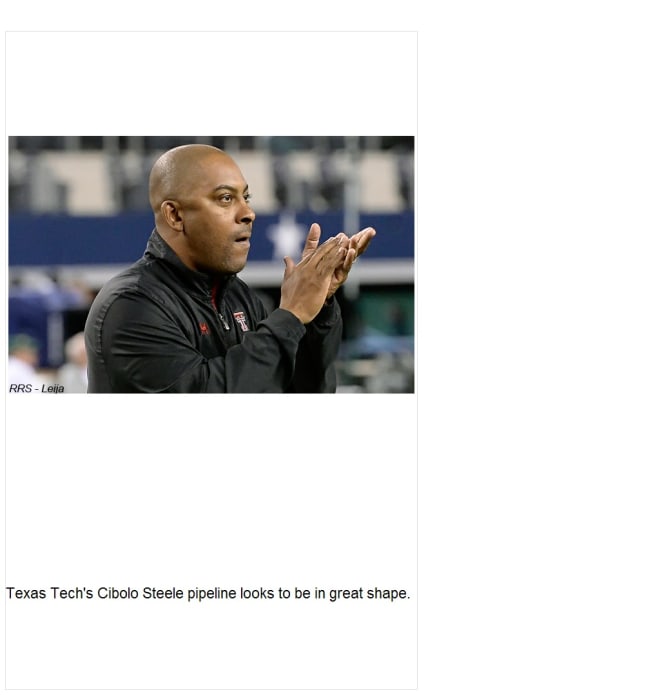 When Cibolo (Texas) Steele All-purpose back
Bryson Denley
committed to the Red Raiders back in May, he was excited to bring a different play-making dimension to the offense as a wide receiver and running back for Texas Tech.
The Cibolo Steele athlete has clocked in at a 10.4 100 meter dash and a 4.3 40 yard dash at different points throughout his high school career. The speed element of Denley's game is unlike any other current commit in Tech's 2016 class, and the three-star running back is excited to show off his talents in the scarlet and black.
Denley hears from just about every offensive coach on Tech's staff on a regular basis and has loved what he has seen from his future team's offense through the first five games. Denley is committed with fellow Cibolo Steele teammates
Antoine Cox-Wesley
and
Xavier Martin
.
WHAT'S NEXT?:
Denley is like a swiss army knife for his undefeated Cibolo Steele squad, as he does a little bit of everything for the Knights. At running back, Denley has amassed 314 yards on 36 carries and 10 touchdowns through six games; Denley also frequently lines up in the slot where he has 8 receptions for 80 yards and a touchdown. The number 15 All-purpose back hasn't been out to Lubbock since his unofficial back in June, but that will change as he will be in town this weekend for when Tech takes on Iowa State. Cibolo Steele will face off against Wagner this Friday.
IN HIS WORDS:
"It's going great. I love the team, the coaching staff; it is a great team with great players. Things are just going really great. I've watched all their games this year and it is exciting to see that offense and the role I will be playing. I'll get to do what I do and make plays and help the team get a win," he said. "I'll actually be down there this weekend for the Iowa State game. That is my only other visit I have set up at the moment. I heard from Oklahoma recently, but I am 100% to Texas Tech."
OUR REACTION:
Denley's a versatile option on offense at Steele, and the Texas Tech coaching staff has to be excited about his potential at multiple positions in their offense. He's solid with the Red Raiders and will get a better idea of gameday in Lubbock on his visit, so things are on track for Tech with the San Antonio-area playmaker. - Will McKay