College Gameday's Jay Williams talks Texas Tech, coming to Lubbock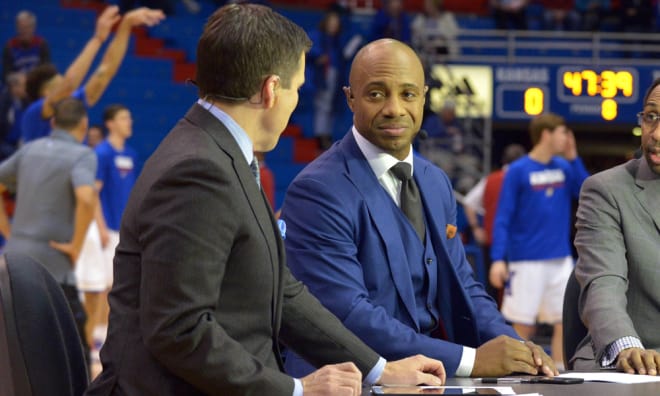 Texas Tech basketball has certainly had a left-field, magical ride so far this season, and the culmination of that ride so far will occur on Saturday afternoon when the Red Raiders take on Kansas, a contest that could re-tie Tech with KU atop the Big 12 standings with two games to play.
With those circumstances and two premier teams clashing in one of the biggest games in college basketball this season, ESPN's College Gameday will head to Lubbock to celebrate the contest, Texas Tech, and the Saturday to come in college basketball as a whole.
One of the on-camera personalities coming to Lubbock for the event is Jay Williams, who won the Naismith Award as the best player in college basketball at Duke in 2002. Williams was a part of Duke's 2001 run to a national title in the NCAA Tournament, was a two time All-American, and was drafted second overall by the Chicago Bulls in the NBA Draft.
The former point guard has been one of ESPN's headlining college basketball experts for a number of years now, particularly as a member of the College Gameday set. So, how does Williams envision Gameday in Lubbock?
"First off, it's a celebration of the program. It's a Texas Tech infomercial for an hour, which is great from a coaching perspective with bringing a guy like Chris Beard on set," he said. "I don't think the country has been introduced to Texas Tech as much as we can make this happen tomorrow. It's a chance for (Coach Beard) to expound on his program, his principles, why he thinks he's different here, talk about his relationships with his players, and also it's a chance for the world to see the fanbase. I've seen a lot of games. I know how crazy you guys get here. But, I think for the rest of the country to get to experience that at 10 o'clock in the morning, that's different. That's a different feel."

He's also thrilled to come to a school that's never hosted the basketball version of College Gameday, because he feels some of the bigger schools take it for granted. And, as he mentioned, he's heard how wild the fans can be in Lubbock
"I'm so damn excited to be here because we haven't been here before. To be frank with you, places have turned out this year, but I also feel like some places are a little bit spoiled. You have College Gameday at KU, and even though they turn out, they've done it multiple times. Duke, they've done it multiple times. North Carolina, they've done it multiple times. The fact that we came here, I think it's incredible," said Williams. "Texas was incredible this year because of all the stuff happening with Andrew Jones, but we went to Texas a couple of years before that, and there were like six people in the crowd. You can see that. You can feel that on TV. 'Okay, maybe this is not a basketball place.' So, I think this is not just a great chance to showcase who Chris Beard is, showcase the team, but also with recruiting. This is, 'Okay, this is who we are. This is how we come to play every single day. This is who our fanbase is. This is the kind of energy you get here when you play here and you're a Red Raider."
Williams has obviously been keeping close tabs on Tech hoops this year as the team has continued to rise up the rankings and win big games. In fact, with the way they've played, Williams believes they have a chance to make a deep run in March.
"What Chris Beard has been able to do with this team and the style in which they play, it's so great to watch. This is a team in a year where who knows what will happen over the next couple of days, who will be eligible, who will not be eligible, but this tournament is wide open, and you talk about a team that knows who they are, and they have great leadership," he said. "This team has the pieces to go very far in the tournament. It wouldn't surprise you if they find themselves in the Final Four either."
So, what sticks out to him about this team, outside of just Keenan Evans?
"I've known of Zach Smith for a while too, and I wish he was playing. If that kid was playing? Wow. But, between Zhaire Smith, Culver, the team that you guys have, there's a resiliency in this team," he said. "I know Fran (Fraschilla) and other guys talk about how defense travels, but heart and desire travels as well. I think the one thing that gives this team an advantage is when you have that collective togetherness. For people who understand how they play, what they stand for, you don't see that a lot in college basketball anymore,"he said. "Here you are with a veteran team in a climate that's the biggest gauntlet in the country, and they find themselves one game out of position to either share it or if KU falls in the latter part, win it outright."
But Williams had plenty to say about watching number 12 play for the Red Raiders, too. In fact, he believes Evans is the kind of player who can carve out a role for himself in the NBA.
"I don't enjoy watching a lot of people play. I thoroughly enjoy watching Keenan Evans play all the time," he said. "When I start looking at the NBA and draft prospects, I see him having a chance to be there because he understands who he is. That's one of the things that really gets taken advantage of with kids coming into the league. A lot of kids get drafted based on potential of what they could be, and then you have some kids that have a great year and try to come back to school to prove they can do other things than what they did before. A prime example is Miles Bridges to a degree, right? 'Hey, I was a four, but now I'm proving I can be a three.' But for a guy like Keenan Evans, I think he understands who he is. He knows he's a hard nosed guy that's going to show up every single day, you're not going to have drama off the court, he's gonna stick his nose in there defensively, he's going to fight for you, and he's a big time scorer who can make shots. If that's not a guy who can play in the NBA, I don't know what is."