Colgate grad transfer safety Kyan Brumfield talks TTU commitment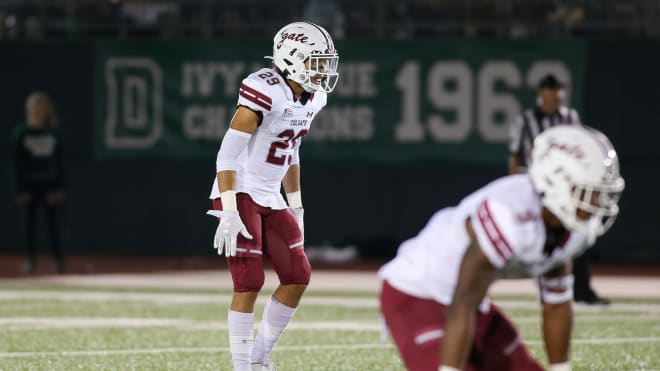 The Texas Tech coaches keep adding to their roster, the latest commitment coming from former Colgate grad transfer safety Kyan Brumfield. Brumfield graduates from Colgate after just three years this month, and will have two seasons to play in Lubbock. He will be a walk on to start his Red Raider career.
Brumfield's recruitment to Texas Tech was headlined by head coach Matt Wells and Director of Recruiting Preston Pehrson.
Contact with coaches: "I've been in contact with coach Wells. He called me last night and we talked about how Texas Tech is where I wanted to be. I've also been talking with the recruiting coordinator, coach Pehrson. They've both been talking to me and going home to Texas, I went to high school in San Antonio, so Texas Tech is a school I was looking at. I love the heat, I love how football means more down there. So that's really what led me to Texas Tech."
Fit in the defense: "That's what Coach Wells talked to me a little bit about last night. He said they see me playing on special teams and competing to play everywhere on defense. So really I'm just hoping to come in and compete to play wherever, just get on the field. I know they have a lot of great athletes there already so I'm up for the challenge."
Strengths as a player: "My IQ is definitely my best ability, it makes up for everything else. I've been around the game since I was born. My dad played football, arena wise and also at Utah State at the FBS level. He's also coached since I was three years old. So just knowing what's going to happen in the play, being able to have great football instincts helps me a lot. Just being willing to do the things most people aren't, like block and things that don't get the limelight."
Knows about Texas Tech: Despite graduating from Brandeis high school in San Antonio, Brumfield never did get to visit Texas Tech in his high school career. Still, he does know a little bit about the Red Raiders including one of his best friends who is currently on the team, linebacker Michael Nelson.
"I was never able to visit, a couple of my friends from high school went there though. One of my close friends Michael Nelson is actually on the team right now. He has nothing but great things to say about Texas Tech."
Learning from dad: Kyan's dad, Ricky Brumfield, is currently the special teams coordinator at Virginia and is in his 20th season of coaching college football. Going back though, Ricky was a wide receiver at Utah State from 1995-1999, at the same time current Texas Tech head coach Matt Wells was a quarterback and safety for the Aggies.
"He's had nothing but great things to say about coach Wells. He said that he'd love to have me play for him, he knows how good of a person he is and how mentally tough he is. He mentioned that coach actually started at quarterback and ended as a safety at Utah State. He was just saying how his awareness and smarts of this game are just out of this world. I want to coach eventually too so I want to be able to get some knowledge from him."
Staying busy during COVID: "We have a new weight set in my garage so I've been lifting weights. There's also a local high school by our house so me and my brother go and we'll throw, catch balls, do some drills and lift weights. I also play video games, it's really all you can do to pass the time."
Arrival in Lubbock: "I want to go as soon as it's safe, whenever I'm able to go. As early as possible. I want to get in front of the coaches and meet them and show them what I can do."
After redshirting as a freshman at Colgate, Brumfield has played in 17 games the last two seasons, combining for 12 tackles and two pass breakups for the Raiders.
Video credit below to G-Sportz.