Coach Beard reviews Oklahoma State, preview Kansas, talks Evans' health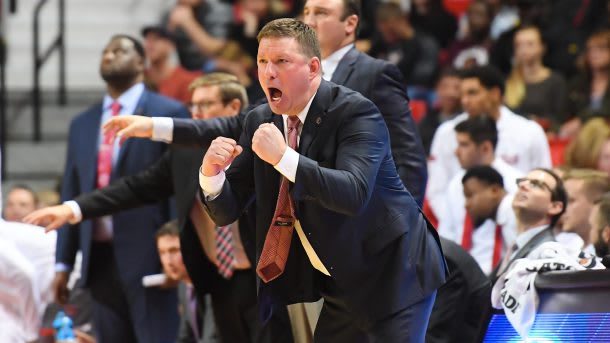 Texas Tech head coach Chris Beard met with members of the local media on Thursday evening to review the Oklahoma State game and preview the Kansas game...
-The head coach spent time answering a number of questions about Keenan Evans and where his health is at with his injured toe. First, Beard was asked how Evans handled the 25 minutes of playing time and if Evans practiced today:
"He didn't practice today. It's just gonna be one of those deals where we have to value the relationship between work and rest. But really, it's no different than it is with a lot of players in college basketball right now. Everybody is kind of banged up right now, so from a coaching standpoint you've just got to be kind of smart. Fresh legs are everything this time of year, too, and obviously Keenan is dealing with the toe issue. We'll just try to do the best job we can."
-Beard was also asked about how resting or playing would affect Evans' health in negative and positive ways, primarily if there was any risk of further injury should he continue to play:
"He's in a situation where he's not making the injury any worse. Certainly, if there was a relationship where we could hold him out a couple days to give him a better chance, obviously we would be doing that. I've been doing this for a long time, and I'm always going to do what's 100 percent in the best interest of the player. So, on this deal it's just a complicated deal. He's got a really, really bad situation with his toe, and he's just trying to fight through the pain. But, we've been told by the doctors that he's not making it any worse by trying to play through the pain."
-Beard had a few more things to add about Evans as well, specifically about how he may have to adjust here as he gets used to playing on the injury as it continues to heal:
"He felt a lot better yesterday than he did when we were leaving Waco, and we're just hoping that he'll continue to feel better as he goes on, but there's no doubt that he's going to have to make some adjustments. I spent some time with him today, and at the end of Kobe's career, he was playing different than he was at the middle or at the first. It changes. Players are always having to adjust. Sometimes it's because of age or circumstance, and sometimes it's because of injury. You've just got to find a way to play. But, I thought that Keenan was the best screener we had on the floor last night. He impacted the game in different ways, but certainly we're missing some of the things he can do on the defensive end with his pure talent and athleticism. Then on offense, he's such an attacking player. There's value in him taking jump shots, but we all know we're at our vest when Keenan is attacking, so that's something we're working hard to put him in a position to do that down the stretch."
-I asked Beard why he held forward Norense Odiase out of most of the second half and limited fellow forward Tommy Hamilton's minutes late in the game:
"Our offense was flowing when we went small ball. I thought Tommy played well in the second half, got loose for a couple of threes, screened a little bit better. We just need those guys playing at their best. In the flow of the game with coaching decisions, you do what you think is best for your team to win, so Oklahoma State was playing with forwards and no centers, so it was just kind of a decision. Thought we got some things done offensively with the smaller lineup, but there's no doubt that we need Tommy and Norense at their best here down the stretch."
-Coach Beard on senior guard Niem Stevenson, who had 14 points, 4 rebounds, and 4 assists against Oklahoma State and has been playing better down the stretch:
"Niem is playing well as of late," he said. "Really been impressed with his assist to turnover ratio this year. There's been some real improvement this year. I think at the top of the list is that he's just been coachable. I've coached Niem about as hard as I've ever coached anybody, and he really seems to be responding. He seems to be really playing good basketball down the stretch, and that's what we need from a senior."
-Beard noted in postgame on Wednesday night that he wasn't pleased with the team's effort and focus coming out of the half, a period where Oklahoma State hit 9 consecutive shots, including 6 threes while getting out to a 14 point lead on Tech. He was asked on Thursday night if late season fatigue could be playing into some of the poor transition defense in that game:
"I don't buy that. Oklahoma State's played as many games as we have. There's no advantage one way or another. We all play two games a week. I think it comes down to, in basketball you've got five players out there. You can have four players playing as hard as you possibly can. You can have one guy take one play off, and that just gets exposed at this level," he said. "In the Oklahoma State game, when we start the second half, it's obvious what their gameplan is. They're going to run down and shoot a shot before we can set our defense. Three of those six shots they hit, we had four players doing exactly what they were supposed to do, and then one player takes a play off. It's not like taking a play off to get a drink of water. It's literally instead of sprinting those first three steps, let me take a look around and then sprint. That small detail will just hurt you at this level of competition. So, it's just about playing as hard as you possibly can when you're on the court. That's what kind of got us. We got exposed last night. Now, if a team shoots the ball like they did, it's probably going to be a long night anyway, but that combined with I just didn't like our focus, our intensity the first couple of minutes, it eventually beat us."
-Now, the Red Raiders have lost consecutive games in Big 12 play for the second time this season. Beard was asked if this situation compared at all to the earlier conference slump and if Tech could draw any learning experiences from that go around right now:
"We've had a couple of these situations this year, and we're in one right now. We lost two road games in the Big 12 to two teams that are fighting to get in the tournament without one of our best players, so to me it's not like the boat's sinking. We've just got to figure out how to get the boat going back in the right direction. But, this is the Big 12. Can't get too high or too low. You've just got to give yourself a chance. We're down to a three game season, and we're in the race for the Big 12 championship. I'm really proud of our guys. I understand asking tough questions after losses, but let's don't lose fact that we've got a team right here that's competing for a conference championship in the toughest league in basketball with three games left."
-Beard also reminisced on winning in Allen Fieldhouse earlier this year and what it was that he liked about the team's performance to win against the Jayhawks:
"I liked our mental approach to that game," he said. "I was convinced when we played them the first time, and it started with our practice here in Lubbock and our practice in Lawrence, I felt like we were coaching a team that expected to win. That doesn't mean it's going to happen, but the first part of competition is that you've got to believe you can play. I thought this team led by our seniors brought a different mentality to this Texas Tech - Kansas game, especially on the road, than I've seen in a long time. Then, we made shots. Justin got us off to a great start. We got some timely starts. We were able to control their runs, and Kansas is a team that plays in runs. A lot of teams can play with Kansas, but the difference in the game is 6-0 run, a 9-0 run, an 8-0 run, and you'll look up and the game is over. I thought the first time we did a good job of surviving some of their runs and having some runs of our own."
-Coach Beard was also asked what it feels like to be hosting College Gameday in just his second year as the head coach at Tech:
"I'm really proud of that. It's just our second year, and we're in the fight for a conference championship, a top seed, control our own destiny in a lot of ways, and we've got the biggest game in college basketball, national television here. To say that isn't cool would be ridiculous. We're building the program. Now, what I would say is that we've got to get used to this kind of a thing. We need to get used to playing well. We need to get used to playing in meaningful games. We need to get used to Coach Greenberg, Jay Williams, and Jay Bilas being in Lubbock, cause if we're going to do the things we want to do, if we want to be in this position every year where we're competing. That bus, they got to the teams that are competing. They're not here for the barbecue and the weather. They're here because it's two of the best teams in the Big 12 competing for a championship, so I'd say we've got to get used to being in this situation."
-Beard was asked about the play of freshmen Jarrett Culver and Zhaire Smith, how the two have yet to hit the freshman wall and slump. He noted that it's been great to see them stay steady, but if the two can keep playing at this level, it can be something special:
"There's two stories. if the story ends today, it's a pretty good book. if the story continues, it could be a top seller. I think those guys understand that. That's the way they're wired. They're two really competitive young players. They're not satisfied at all. Although it might look that way with all the distractions around and everything, the attention, I can tell you that those guys are just humble players trying to win the next game. That's why they've been so fun to coach."
-I asked Coach Beard, with the way Oklahoma State did such a great job of hitting open threes in transition, how important it was to learn a lesson from what happened in Stillwater considering that Kansas has three point shooters all over the court and will play fast and try to hit transition threes as well:
"It's what keeps me up at night. It's why I can't sleep," he said. "They have four three point shooters on the floor at all times, and they play with great spacing. So, we've got to get back on defense. If we try to play a full court, fast break game? Start the bus. If we can get it into a controlled deal a little bit, we can play with teams like this. It starts with your offense. You can have the best defense in basketball, but if you hand the ball to the other team, or if you take a bad shot, get your shot blocked, it puts impossible pressure on your defense. Our defense starts with our offense, and it has to have maximum effort sprinting back. Can't take one play off in terms of effort. Then, you've got to get back and build your defense. So yeah, I'm really worried about that, but I am with every game."