Chiaverini seeing growth from outside receivers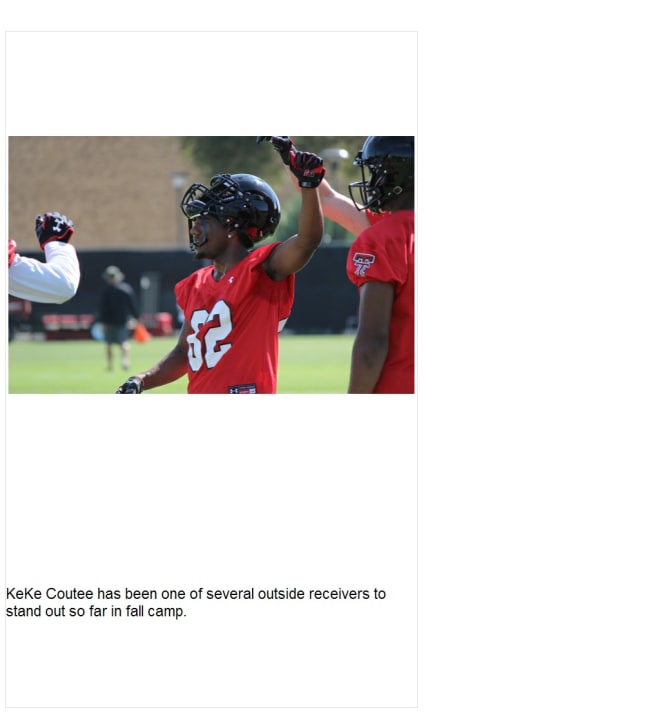 Chiaverini has been pleased with the pass catchers at both X and Z so far, but they haven't made it home just yet.
"I think their attitude has been good, effort has been good. I think their mental toughness has been up and down, good at times, but still working through it. What I keep telling them is that they've had a lot of good days, but we haven't played a game yet. We haven't arrived yet. At the end of the day, we're still what we put on tape last year. So, we're working to change those kinds of things. We're getting good execution in practice. Guys are stepping up, Lauderdale is really pushing, and Dylan (Cantrell) is making a lot of plays. People aren't talking about Reg Davis much, but he's having a really good camp. Then the young guys are really playing well. Tony (Brown) is making plays. Donta Thompson is playing well. KeKe (Coutee), he'll put one on the ground, but he comes right back and makes a play," he said. "I think their mental toughness has been good, but there are still things we have to improve on."
And you could see the progress made by several of the outside receivers dating back to the home stretch of last season. But Coach Chiav doesn't want to hear about anything to do with 2014. It's about the here and now as far as he's concerned, and he's worried about changing things for 2015.
"I don't really worry about last year. I wasn't coaching that position, and I just worry about what I can control now with my responsibilities to coach those guys in that room. I'm going to make sure that they're ready."
Sure, the veteran juniors and seniors all know what fall camp entails. It's long days without much sleep, and it's a fight to either win a position job or hold onto the claim you've staked over the years. Things are a bit different for true freshmen, however, as they're going through the wide-eyed dog days of August out in the Texas heat for the very first time in their careers.
If you've been around college programs long enough, you know that most of these youngsters will crack under the pressure after a week or two once the pads go on. It's just a part of the baptism by fire, a rite of passage that every freshman must experience.
But Chiaverini hasn't seen them break yet, and that's significant.
"What I've been impressed with is that they're not scared at all. They're not. Usually true freshmen - and I was fortunate to play as a true freshman - and I wasn't as ready as these guys are. These guys look like they're ready now. It's different in practice than it is in a game, but they're going to get opportunities. I told them to get ready, cause they're going to be playing," said Chiav. "Usually with freshmen, they'll hit a wall. A couple of them have done that, but they've fought through it, and as a coach, what you want to see as a coach is great attitude and effort out there, and they've had that."
"I was truly surprised with how well he was able to run. He's also got a really good football IQ. He's football savvy. He understands zone and man concepts, understands route concepts in general, so as a coach, that's always refreshing man. It's always good when guys have a high football IQ, cause then you can teach them a concept, and they can go outside or inside and play the concept, not just the route."
Brown has looked great and will likely find his way onto the field as the backup X behind Devin Lauderdale, but the real position battle is going on across the way at Z between Dylan Cantrell and Reg Davis.
Their position coach has been happy with what both players have been doing so far, but it sounds like the Whitehouse native may be taking a lead.
"I think what Dylan has been doing - at the end of the day, what I'm a big believer in is, is the guy a football player? Dylan Cantrell is a football player. He knows how to get open. He might not be the fastest guy out there, but he has good speed, and he knows how to stretch a defense. I've seen him beat plenty of guys deep this camp, catching fades, catching gos, and catching posts. I think both of them have been pushing each other, though, and then KeKe Coutee coming in here, he's pushing both of them to play, and I like that about him. He's not scared one bit."
And now that Cantrell and Lauderdale are both juniors that seem to be cementing their status the starters on the outside, Chiaverini is seeing them grow in other areas.
"I think Lauderdale and Dylan (Cantrell) are starting to lead, starting to be more vocal, and I like that. I told them that at the end of the day, coaches coach and players play. This is your game. I'll teach you the things you need to be successful, but at the end of the day, it's you guys and your group. Take it over. I'm just going to teach you the things to be successful, and it's been good."
But, at the end of the day, it's about the offense as a whole, not just the outside receivers. As an NFL vet and someone that's been coaching a while now, Chiaverini certainly knows that. He likes where the O is at as a whole right now, and if they keep their head down on the warpath, Red Raider fans might see a different result on the field in 2015.
"They're definitely working. I see the offensive line, the receivers, running backs quarterbacks, and you see a different mindset this year as far as we're pushing tempo, we're working hard, and guys are making plays. It's fun to watch. When we're operating on all cylinders, it's fun to watch, and I think it's going to be a fun year to watch those guys go out there and perform."