Brooks pleased with early season progress on defense, wants to see more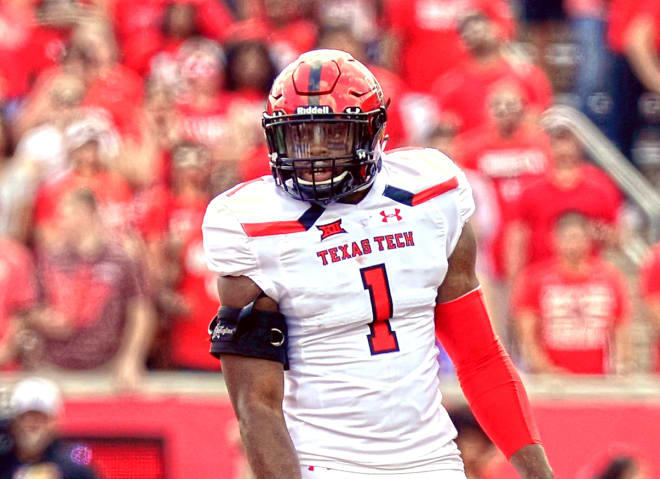 To say that many outside of the confines of the Texas Tech Football Training Facility saw this level of defensive improvement coming in 2017 would be a falsity.
Through four games, the Red Raiders have essentially halved their rush defense ranking from a year ago, currently sitting at 65th, are 81st in yards per play after being 126th in 2016, and most importantly, they're tied for 35th in INTs and 19th in turnovers gained despite having played one fewer game than most of their peers.
And all that is a week after playing a clearly motivated Oklahoma State offense, a unit that may be the best in college football - at least through the air - when all is said and done.
Is this Tech defense Alabama or Clemson? Well no, of course not. But they are much, much better.
Much of that improvement starts at linebacker, where junior Dakota Allen and sophomore Jordyn Brooks have been arguably the best duo at the position in the Big 12 so far this season.
While Brooks can certainly see the progress that's being made, and he's glad for it, he's not satisfied or ready to settle.
"I've been happy with our overall defense from where we were last year to now. We're not great, but we're much improved. The thing I've been happy with is us getting off the field on critical third downs. I just hope we continue to do that moving on further down the road."
Many of those critical third down stops came against Oklahoma State last Saturday night in Lubbock, particularly in the redzone. The Red Raiders forced Houston to kick field goals four times - two of which they missed - inside the 20s, something Brooks was pleased with.
"Obviously, we could've done better. I was proud of the effort that we put up against one of the top offenses in the nation. We knew it was going to be a fourth quarter battle, but I'm just proud of how we hung in there. They drove it on us a lot, and we held our own in the redzone a couple of times to give our offense a chance to score the ball," Brooks said. "We knew we had to get a stop, especially after getting that punt blocked. We knew it was critical. So, we sucked it up, we went out there, and we fought."
As a sophomore so far, the Houston native has certainly been a major cog in David Gibbs' third year defensive success. Brooks flashed his talent as a freshman, specifically in the last few games, but now he seems to have found consistency.
He's learned what football is at the Big 12 level, and the game has slowed down, much as it does for talented players after a year's seasoning. But he won't take all the credit for his play.
"I think I've played a lot better these first four games than I did my first four games last year. I'm seeing things a lot better as far as how I saw them last year. Everything's a bit slower now. Playing with this defensive line this year has helped me out a lot, too. They keep offensive linemen off me, and it's helping me make a lot more tackles."
Specifically, Brooks can attribute a lot of that success to Mych Thomas and Broderick Washington, as the starting duo at nose and defensive tackle have been a pair of high-motored bulldogs up front. The mike linebacker credits their improvement and level of play as a duo to their chemistry.
"They've been great. They've been the key to success in the front seven, taking up those offensive linemen with double teams. They play well together, and they complement each other a lot with their energy. With it being Mych's last year, I think he's been playing awesome. I just hope he keeps it up the rest of the season."
And the level of improvement from Thomas has specifically been impressive, as Brooks will attest to.
"It's been awesome. Last year it was a little bit inconsistent, and really everybody on the defense was inconsistent. But, to see that jump that he made from the spring to fall camp and then to now, it's been great to see that."
It's clear as day that this Texas Tech defense is different. It doesn't take a rocket scientist to see it. Players have improved, the system is clearly old hat to the veterans, and the Tech staff brought in some key contributors that have pushed the unit forward. But what sticks out the most is the way in which this unit plays. It's with energy, aggression, and emotion.
So, I asked Brooks straight up: Does this defense play pissed off?
"Definitely. It's about bringing fuel to the fire. It's hard to ignore things that are being said on social media. About every week somebody says that it's going to be a shootout, that the Texas Tech defense can't do this, can't do that. But, I like it at the same time. It brings more motivation for us to come out there and play hungry all the time."