Beard heads overseas to fulfill his promise to Davide Moretti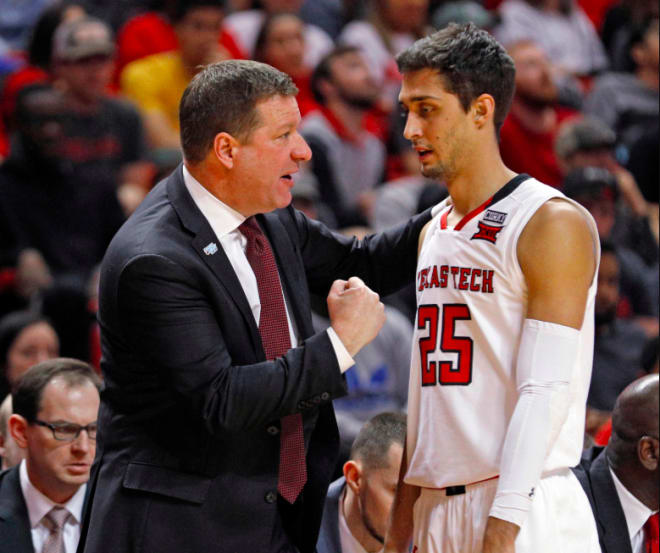 Chris Beard arrived in Lubbock on April 15, 2016, when he was named the 17th coach in Red Raider men's basketball history. Since then, his journey has not only taken Texas Tech fans to new places but also himself.
During his historic sophomore season as head coach in 2017-18, Beard suffered a torn ACL, which still requires surgery, an emotional run to the Elite Eight in the NCAA Tournament and the departure of some of his assistants and not to mention some key role players on his roster.
All of the mentioned items above and more, despite the ACL, were promises he made. He promised Zhaire Smith when recruiting him out of high school that he would play in the NBA – check. He promised to take the program to new heights – check. He promised to lose assistants only because it meant they would be leaving for new levels in their own careers – check.
And he's about to fulfill one more that he kept to guard Davide Moretti.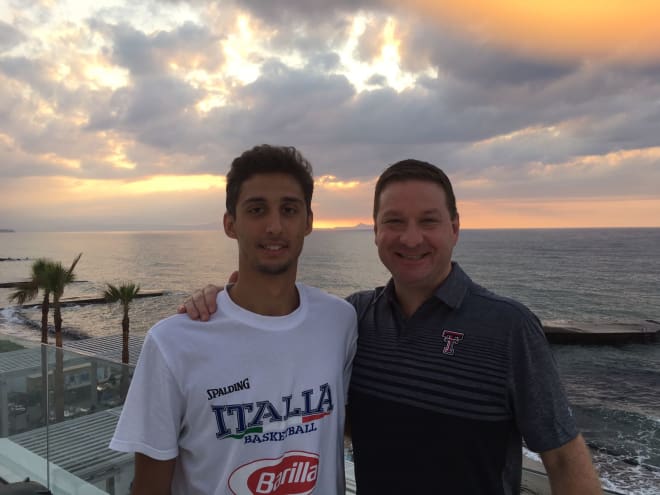 "Moro, just have a lot of respect for him because he made a personal decision," Beard said. "Moro's on the national team of his country – Italy. Really had a decision to make this summer, go back and play for the national team. He made the decision because of the commitment here at Tech to kind of split the summer. So he was with us all of May, all of June and some of July then he'll go play for his national team in July, which I'll go see him play, I think in Germany this year."
Beard's promise to Moretti was to take a trip overseas to see him play for his home country of Italy. Moretti is a member of the Italian U-20 FIBA team which is competing in Chemnitz, Germany from July 14-22.
This summer was full of plans to get better on the court, Moretti said in a recent interview before leaving the states. Strength and conditioning coach John Reilly has been a working machine since joining the staff and has transformed players in many ways.
Reilly has managed to aid Moretti in his strength gains by adding 20 pounds onto him. He said he'll be in constant contact with his coaches back in Lubbock while in Italy since he'll be itching to lounge around with family and eat one of the foods his missed the most from Italy – the pizza.
"As a returner, I think I have to be a leader — like to show the young guys how we do things here at Texas Tech," he said. "Coach always asks me to be a vocal leader in practice and outside the court.
I wanted to have a bit of time to spend with my family and my friends," Moretti said. "So I chose to stay all the way through since the season was over. ... It allowed me to practice alone and then with the team for a little bit. And, now, it should be a good challenge to play for the Italian national team. And I'll be able to get a bit of rest before I get back here before school starts."
Good thing for him coach Beard will be around in Germany for a bit. Moro mentioned that he was grateful to be in the position he's in with Beard being open to him playing for his national team. But, in fact, Beard is open to any of his players playing with the national team of their countries and just getting better at their craft.
Not to mention the fact that Beard has a lot going on for him the second half of summer. He and his coaching staff have been on the recruiting trail nonstop lately. Adding coach Glynn Cyprien will help with the recruiting process but Beard still has that on his mind along with that ACL that still has to repair and, of course, his three daughters.
However, in the end, a promise is a promise to coach Beard so he'll be continuing that journey by cheering on his rising sophomore in Deutschland.