Basketball Preview: Red Raiders look to make it four straight in Manhattan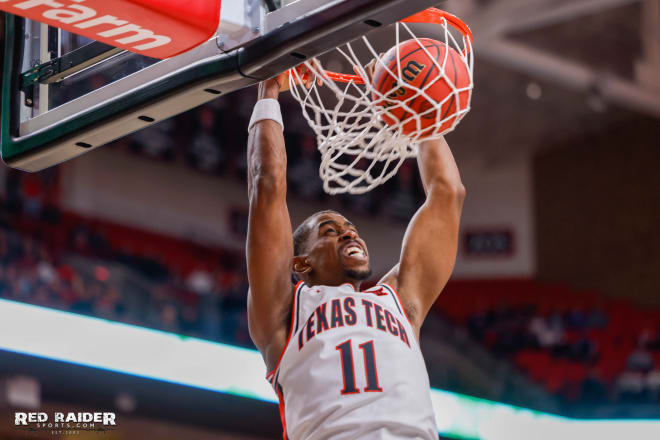 GAME DETAILS:
WHERE: Bramlage Coliseum | Manhattan, KS
WHEN: 11:00 AM, Saturday | Jan. 15th
WATCH IT ON: ESPN 2
SERIES HISTORY: Texas Tech is 22-23 all-time against Kansas State. The Red Raiders have won seven of their last eight games against the Wildcats and three of the last four in Manhattan.
KANSAS STATE 2021-22 SCHEDULE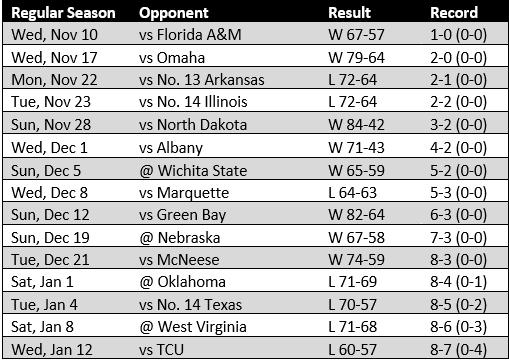 WHAT SHOULD WE KNOW ABOUT THE WILDCATS?
Kansas State has an 8-7 record this season, but they're 0-4 in Big 12 Conference play. They were picked to finish ninth in the 2021 Big 12 Preseason Coaches Poll.
Head coach Bruce Weber is on his 10th season at the helm for the Wildcats and has a 178-137 overall record. He's led Kansas State to five NCAA Tournament appearances, and advanced to the Elite 8 in 2018. Weber is 8-10 against Texas Tech.
The Wildcats went 9-20 last year and were 4-14 in Big 12 Conference play. The nine wins a season ago was their lowest total since the 1945-46 season when they won only four games.
Kansas State has been better as a team on the defensive end this season. They have the 256th scoring offense in the country, and they're 248th in field goal percentage. They're ranked 29th in scoring defense, but they're 166th in turnovers forced and 100th in steals per game.
The Wildcats are ranked 72nd out of 358 Division-I schools in the KenPom college basketball ratings for adjusted efficiency margin. They're 141st in offensive efficiency and 35th in defensive efficiency. They have no wins over teams in the KenPom top 50.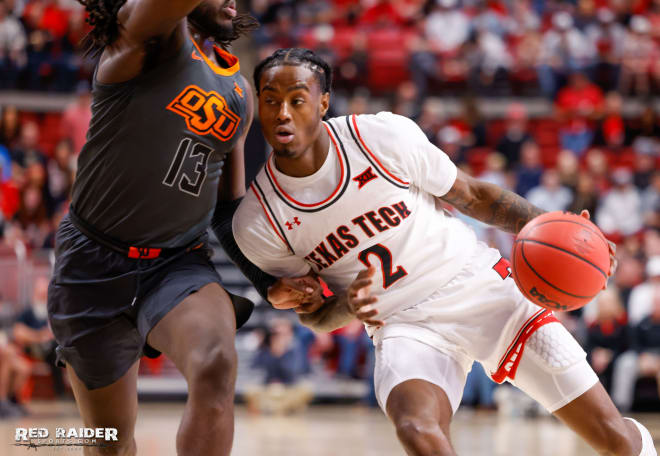 THREE WILDCATS TO KEEP AN EYE ON:
MARKQUIS NOWELL (5-FOOT-8, GUARD)
The junior combo guard transferred to Kansas State after spending the last three years at Arkansas Little Rock. Don't let his size fool you, Nowell is great all-around basketball player and one of the premiere on-ball defenders in the country. He leads the Big 12 in steals with 2.4 per game and is coming off a 7-steal performance in their last outing against TCU. Nowell leads the Wildcats and is second in the Big 12 in assists, averaging 5.2 per game. He's second on the team in scoring at 13 points per game and fourth in rebounds, hauling in 3.8 per game.
NIJEL PACK (6-FOOT, GUARD)
The sophomore guard leads the Wildcats in scoring and is sixth in the Big 12 with 15.5 points per game. Pack is one of the best three-point shooters in the conference. He's sixth in the Big 12 in three-point field goal percentage (41.1) and is second in made threes per game (3.0). Pack's 60 three-point field goals a season ago were the second most in school history for a freshman. He's shooting 92 percent from the free-throw line this season, and he averages 1.2 steals per game on the defensive end.
MARK SMITH (6-FOOT-4, GUARD)
The Big 12's leading rebounder just so happens to be a 6-foot-4 guard from KSU. Smith, a super-senior, transferred to Kansas State after spending the last three years at Missouri and his freshman season at Illinois. He's averaging 8.5 rebounds per game for the Wildcats and has five games with double digit boards this season. Smith recorded a career high 16 rebounds against Oklahoma just two weeks ago. He can also score the basketball and is currently third on the K-State roster, averaging 10.5 points per game.
TEXAS TECH OFFENSE VS. KANSAS STATE DEFENSE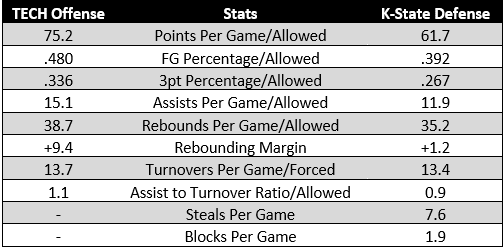 KANSAS STATE OFFENSE VS. TEXAS TECH DEFENSE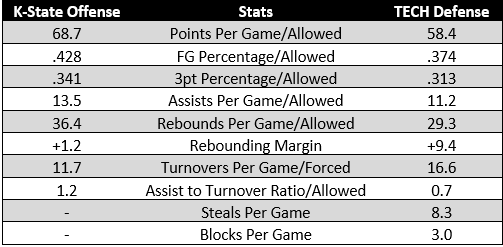 ANALYZING THE MATCHUP:
11:00 am start times can be tricky in college sports. For Texas Tech, who's playing their fifth game over an 11-day period, an early morning start will make things even more interesting in Manhattan on Saturday. Mark Adams noted on Thursday night that he's hoping the team can wake up and be ready to play at 11 in the morning.
In spite of the early start, the Red Raiders will need to be ready to go at tip-off. The Big 12 Conference schedule is like Murderers' Row and regardless of what their record looks like, Kansas State is a good basketball team that's fully capable of upsetting the Red Raiders. The Wildcats are a guard heavy team that loves to shoot the three-ball. They're second in the Big 12 in three-point attempts this season, and they're tied for third in made threes.
There is no greater equalizer in college basketball than the three-point line, so if Kansas State can be successful from behind the arc, they'll give Texas Tech all they can handle. In four Big 12 games, the Wildcats have lost by an average of 5.25 points, so they've been competitive and played teams close. Mark Adams talked about what he's seen from Kansas State.
"I saw them play against TCU, and they played so hard and are very well coached," Adams said. "They've got a couple of really good three-point shooters, so we've got to make sure we go out and contend those shots. They play with a lot of movement, and we're going to have to be ready to guard them for 40 minutes. They're constantly moving and passing the ball, so it'll be a challenge for us."
Texas Tech needs to avoid getting into a three-point shootout with the Wildcats, but instead look to use their size advantage and be aggressive in attacking the paint. Two of the Wildcats five starters stand 5-foot-8 and 6-foot while the other two are both 6-foot-4. The Red Raiders will look to utilize their size on both ends of the court to make life difficult for Kansas State in this matchup.