4-star PG Pop Isaacs breaks down Texas Tech commitment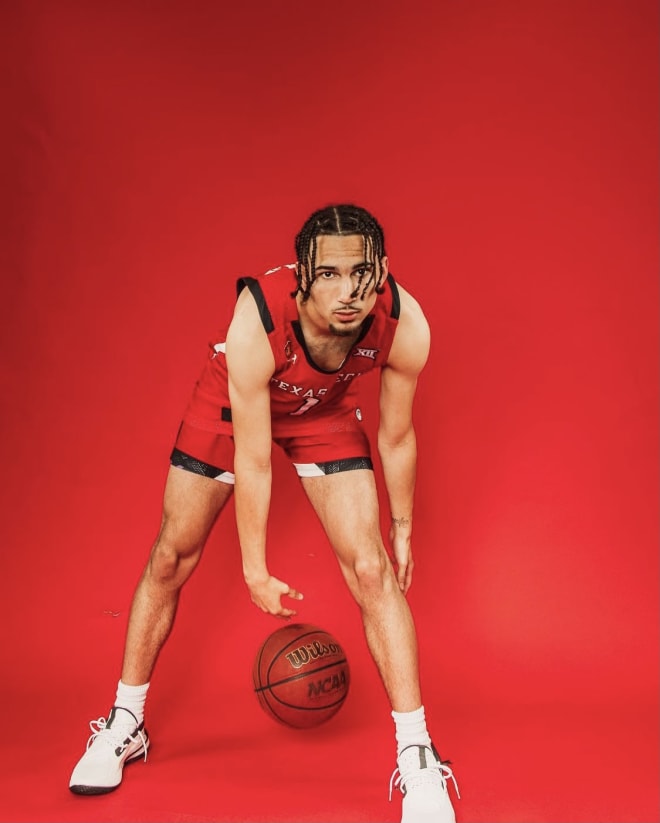 Texas Tech head coach Mark Adams wants to do things differently than his predecessor. After years of motion offense and no true point guard running the show, one of Adams' first big targets after he got the job was to go find him one.
Mission accomplished.
One of the best point guards in the country, Coronado's (NV) Pop Isaacs, committed to Texas Tech last week after taking his official visit to the 806.
Isaacs says it was his relationship with the entire staff, but especially Adams, Sean Sutton and Barret Peery that helped shape his decision in becoming a Red Raider.
"I have a great relationship with all three of those dudes. My dad has known Sean Sutton for a really long time, like 30+ years long. Me and him built a great relationship, just talking on the phone for 20-30 minutes at a time.
Coach Adams, I have a great relationship with him. Once he got the job and then really this summer me and him started talking, we build a great relationship. Once I got to campus that's when I knew the type of dude coach Adams really was, I knew that he really cared about his players and stuff like that.
Coach Peery, that's another great guy. He sends me a picture or a quote every morning, just like some motivational stuff. So I love coach Peery but I have a great relationship with all the members of the staff."
Without a true point guard on the roster, Isaacs says he sees the opportunity for him to come in and earn immediate playing time in Lubbock next season.
"They didn't tell me I was going to come in and start but that's obviously the plan. They didn't have a point guard, and I came there to be that point guard. Coach said they plan to use in me a lot of ball screens, to make plays for myself and others, and he sees me making a big impact right away."
Isaacs took his official visit to Texas Tech on the weekend of September 4th, and saw all he needed to in his time on campus to make his decision. By September 9th, Isaacs released his commitment video and officially announced his intentions to play at Texas Tech.
"One of the highlights of the visit for me was the first night I got there, I think Friday night, after we went to dinner. Coach Adams kinda surprised me, we went to the football field and all the players were out there. Every single one just playing football. We were on the football field for probably an hour just playing football, throwing routes, kicking field goals. Just having a great time, vibing out there, it was a great night."
Isaacs held over 20 reported offers but had previously narrowed things down to a final four of Texas Tech, Oklahoma State, Arizona State and UNLV.
"Just the trust I had with the staff and their belief in me. They really see me coming in right away and having a big impact. They don't have a point guard in the program so that was a big factor for me. Just the trust that the staff had in me. They really pushed hard at the end, they tried to get me and they ended up getting me."
Isaacs wants to and says he will make it back to Lubbock for a game this season, though he doesn't know which one yet. One thing is for sure, Texas Tech's rabid fanbase will be sure to impress.
"I don't know which game yet but I'll be down in Lubbock sometime this fall."
Isaacs takes bits and pieces from several NBA players to use in his game but his favorite player is one not unfamiliar to Texas Tech fans - that being Lubbock native, Atlanta Hawks point guard and All-Star Trae Young.
"On my visit the coaches actually made a video, a player comparison and stuff like that. My favorite player is actually Trae Young so I would say Trae Young is someone I model my game after."
Now that he's committed, Isaacs plans to put his recruiting hat on and has already reached out to another top Texas Tech target in his class.
"Whenever I committed I started talking to Brendan (Hausen). I played against him this summer with Team Griffin so I'm gonna try for sure to get that done. I'm gonna start pursuing Yohan (Traore), too. But Brendan, me and him have already been in communication."
Now committed and done with his recruitment, Isaacs says Tech fans should expect to see an exciting basketball player who helps the Red Raiders win a lot of basketball games.
"Fun basketball. I'm gonna come in and bring excitement, I'm gonna help win a lot of games and just be that point guard that the program's been looking for."
Last season at Wasatch Academy in Utah, Isaacs averaged 14.1 points and 2.4 assists per game while shooting 53.3% from the field and 44% from deep.
He's currently ranked by Rivals as the 99th best player in the country, but was ranked in the top 40 before the latest rankings update.