4-star forward Khalid Thomas weighs in on decision to pick Texas Tech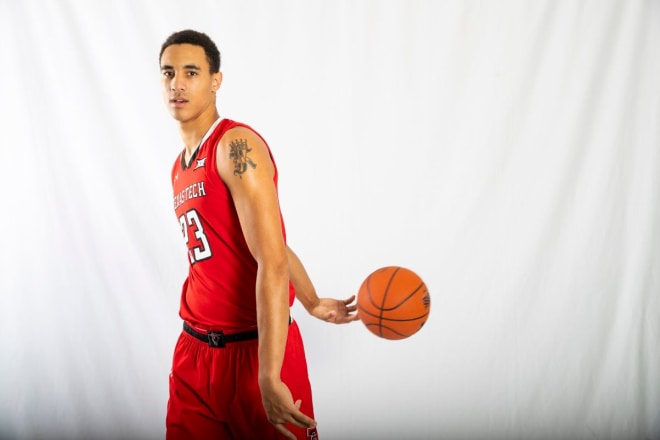 Texas Tech basketball fans were getting antsy. Despite having several highly rated recruits visit campus in the last few weeks, Texas Tech sat without a 2019 commitment with about six weeks until the early signing period. That all changed on Monday evening when College of Southern Idaho forward Khalid Thomas announced his decision to pull the trigger for the Red Raiders.
Thomas, who took his first and only official visit to Texas Tech the weekend of the West Virginia football game, knew right away this was the place he wanted to be.
"The visit overall was a really solid visit, it was everything I was looking for and more. I realized how hands on and involved not only the coaches were but the fans too about the basketball team. When I got there it made me feel really wanted and needed and it made me feel good. So you know I really enjoyed it and I really liked what Texas Tech has going on and I saw myself being a part of it."
For Khalid it wasn't just one part of the visit that stood out to him, it was everything throughout the entire weekend.
"It was all really good, just how friendly everyone was out there. It really felt like a family atmosphere and that was a big thing I was looking for in a school. It was the only visit I took and it made me feel like I didn't need to take any other visits. I was sure right then, right after the weekend."
Thomas, whose main recruiter on staff has been assistant coach Brian Burg, knew all day on Monday he wanted to commit and couldn't wait to tell the coaching staff and officially shut things down with Texas Tech.
"I called Burg first and then I called coach Beard, and they were both really happy about it. They were excited for me and I'm excited for myself. I've been excited all day, I had practice today and I was thinking 'it's commitment day!' so I was just excited and just hearing them talk I could tell they were too."
Listed as a 6-foot-9, 202 pound power forward, Thomas is so much more than that in the era of position-less basketball, and fits in perfectly in what the Red Raiders are trying to accomplish on the court.
"Coach Beard says I'm a position-less player, I can play anywhere and I see myself playing like that. And the fact that he's agreeing with me and says the same thing really helped with my decision. So I can play the 2, 3 or 4 if I have to."
As a freshman last season, Thomas averaged 14.7 points, 6.5 rebounds and shot a scorching 55% from the field and 41% from deep. Heading into his sophomore season at CSI, Thomas is looking forward to taking his team as far as possible.
"My goal is to get as far as I can with my team, I'm not checking out. It's real nice and real awesome to be a Red Raider but I'm not done here yet so I'm gonna do everything I can for my team and take them as far as I can get them."
Khalid chose Texas Tech over offers from Arizona, Oregon, Baylor, and West Virginia among others.