2023 ATH Marcus Ramon-Edwards commits to hometown Texas Tech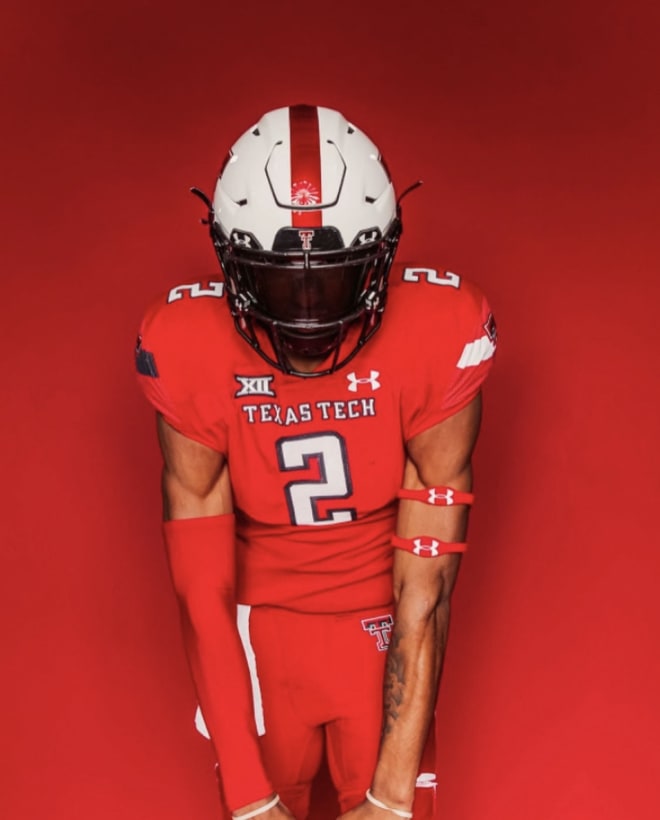 The Texas Tech coaches continued adding to the 2023 class in a big way on Monday afternoon, with two West Texans joining the commitment list.
First, it was Clarendon's Jmaury Davis. A couple hours later, it was Trinity Christian's Marcus Ramon-Edwards' turn.
Trinity Christian is a 10 minute drive from Jones AT&T Stadium, and the opportunity to stay close to home was too much to pass up.
"A big factor that went into my decision was my parents and family. You know, with family being close I just wanted them to be able to come watch me and not have to travel so far."
Texas Tech head coach Joey McGuire and Director of Player Personnel James Blanchard have been recruiting Ramon-Edwards going back to their days at Baylor, and their efforts with Ramon-Edwards paved the way for him to become a Red Raider.
"Our relationship is great. One thing I'd say that's actually been like the greatest thing ever is that they didn't force me to make any decision. They were patient with me, especially when I was being a little bit difficult. So I'd say that was a big factor.
We built a strong relationship since they offered me, so that was a big blessing."
Ramon-Edwards talked more about the moment he learned of his scholarship offer from Texas Tech.
"It was shocking, I'm not gonna lie to you. I didn't expect it. It was just a big blessing for that to even happen. That's something you talk about as a kid, to be able to play for your home city, home town, especially at the college level."
Ramon-Edwards was on campus at Texas Tech for the big Junior Day at the end of January, and he says it was the overall culture that stood out.
"All the coaches were welcoming. I think a big thing I heard repeated was that they're gonna start something special there. At many places you'd think that's just something you hear, but to me it felt like they actually meant what they were saying."
In high school, Ramon-Edwards stars as the teams quarterback and primary ball carrier. As a junior, he rushed for 1,778 rushing yards and 27 touchdowns. However, the Texas Tech coaches are recruiting Ramon-Edwards to come play defense at the next level, more specifically a safety or outside linebacker type role down the line.
"It's a little bit different. Obviously my end goal is to win a championship so if that's where they have me, at the end of the day that's where I'll fit. Where they feel is the best place to put me, I'm gonna obviously work to the game plan and try to execute it."
Ramon-Edwards is also a basketball player and does 'a little track', too. He says his primary role for his basketball team is playing tough defense.
"I do a little bit of track, not as much but I do a little bit of track too.
In basketball, primarily for me it's defense. I handle the ball pretty well. I'm just a floor general basically."
Ramon-Edwards is the 13th commit of the 2023 class, which currently ranks in the top five of the Rivals Team Rankings. He says he has yet to talk much to other commits since announcing, but is looking forward to doing so in the future.
In Ramon-Edwards, Texas Tech is getting a hard worker and someone who will lay it all on the line for the scarlet and black.
"They're getting a hard worker. Someone that's spiritually strong, somebody that's not gonna lean over and let the game take over, no matter how far it is."