La Grange kicker pulls the trigger, is lucky #13 for Texas Tech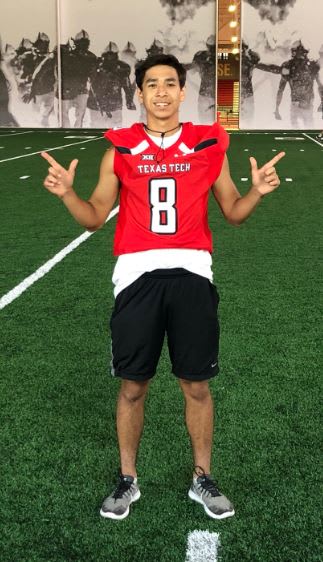 La Grange kicker Alan Orona verbally committed to the Red Raiders on Friday afternoon, becoming the programs 13th commitment in the 2019 class. After receiving the scholarship offer from Texas Tech on June 20th, it didn't take long for Orona to make up his mind.
"When I committed to coach Scheier over the phone yesterday actually, I was just telling him that I talked to my family and coaches and I would like to commit. He was telling me a bunch of good stuff and how happy he was to have me on the team now."
Making the decision to become a Red Raider was an easy one after visiting campus and seeing what all Texas Tech had to offer.
"Honestly it was the coaching staff, I like them and I have a good relationship with them. Also the facilities, they're pretty nice up there. But mainly it's Texas Tech, I know so many people will support you, and it's a college town. They have a really good fanbase and I really like that. When they offered, I was on the phone with coach Scheier, and once he offered me I had no words to describe it, I couldn't think or speak, I didn't know what to say. I was speechless, it was kind of hard to believe that I got offered by a really good school like that."
While coach Scheier is looking for the best overall specialist in the nation, he sees Orona starting out as mainly a kicker.
"He talks about how I really go through the ball, and he likes the way I hit the ball. He says I have a good leg and he told me he's never seen a kicker that good in his 15 years of coaching kickers. As of right now he sees me starting out as a kicker. In high school I punt too but I'm mainly a kicker."
The 5-foot-10, 160 pound kicker committed to Texas Tech over interest from Houston, Texas State and Houston Baptist among others.