Doege recaps Texas Tech visit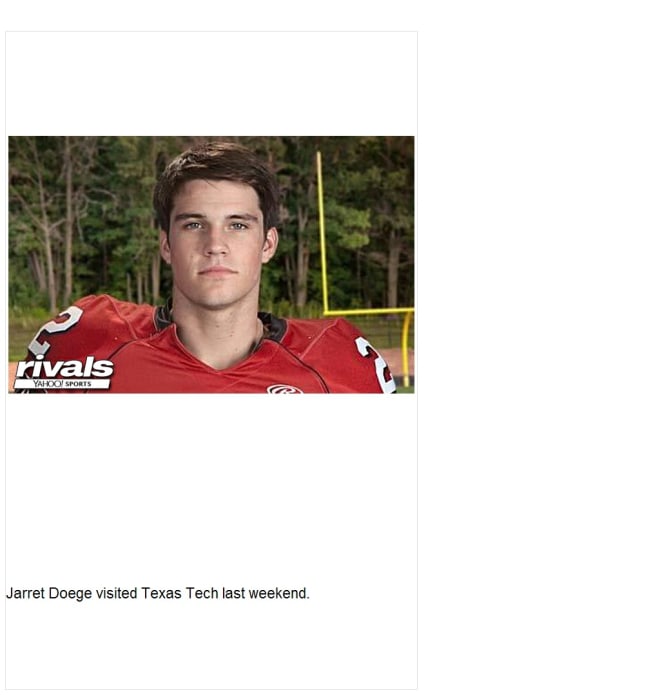 A handful of prospects were in attendance for Texas Tech's game against Oklahoma State
last Saturday. Among them was Lubbock Cooper 2017 quarterback
Jarret Doege
.
WHAT'S NEXT?:
It has been Doege's dream to play for the Red Raiders one day and represent the
university that his brother and both of his parents attended. Despite witnessing a loss last Saturday, Doege enjoyed himself at the game and had the chance to visit with several coaches which "made (him) want to go there even more."
The night before his visit to Texas Tech, Doege led the Cooper Pirates to a 28-20 win over Abilene Cooper to clinch the District 4-5A championship and improve to 8-1. Cooper will open up its playoff run next Friday in Dumas against the 7-2 Demons.
In addition to Texas Tech, Doege is being recruited by Washington State, Purdue, Texas State, Houston and SMU.
IN HIS WORDS:
"I fully expect (Tech) to finish with three victories and a bowl victory. They're on the edge of being special. I believe in coach
(Kliff) Kingsbury and his staff. It's pretty obvious that Patrick Mahomes is one of the best QBs in the nation. As long as they keep putting up big points on the scoreboard the victories will follow."
OUR REACTION:
Texas Tech already has one 2017 quarterback on its commitment list -- Cibolo
Steele's Xavier Martin -- but Doege would be a great option if the Red Raiders
are looking to sign two in this class. Texas Tech is scheduled to graduate Davis
Webb (2016), Pat Mahomes (2017) and Nic Shimonek (2017) in the coming
seasons, so it would make sense for the program to ink two signal callers in
2017. -- Aaron Dickens