Texas Tech visits Brooks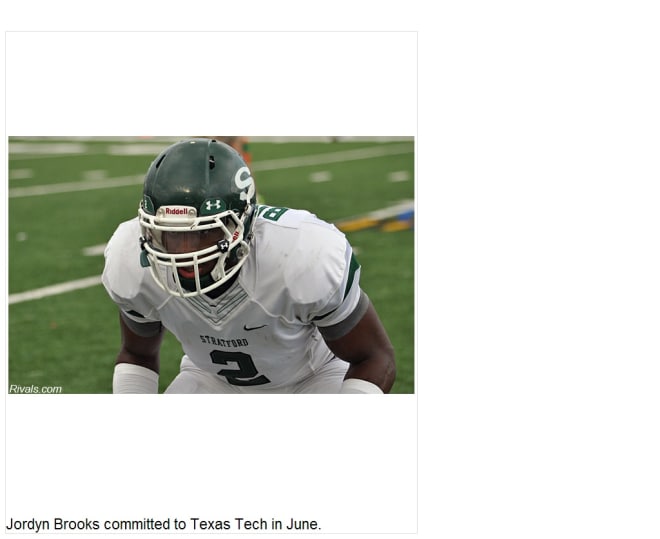 Texas Tech could use immediate help on defense next season and 6-foot-1, 232-pound linebacker
Jordyn Brooks
of Houston Stratford has the size and ability to see the field right away if the Red Raiders can hang on to him.
WHAT'S NEXT?:
The 5.6 three-star prospect has been committed to Texas Tech since June, but a few Power
Five schools have gotten into mix recently and the Red Raiders are faced with the task of hanging on to him. While he doesn't hear from Texas A&M much, Brooks still hears from Oklahoma occasionally and Arkansas seems to be Texas Tech's main competition to sign the linebacker. Brooks was recently visited by coaches
Kliff Kingsbury, David Gibbs, Zac Spavital and Emmett Jones and seems to have firmed his commitment up a little bit since we last talked to him.
IN HIS WORDS:
"It went well. We just went over pretty much what they expect from me coming in,
playing as a freshman and talking about the campus and all that good stuff. I still got my eyes open a little bit, but I'm pretty solid to Tech right now."
OUR REACTION:
Texas Tech's front seven will be extremely young next season, and Brooks should
have an opportunity to play right away for the Red Raiders. The program made him
a priority early on in the 2016 recruiting cycle and that will continue through
National Signing Day. -- Aaron Dickens