Tech may cancel Texas State game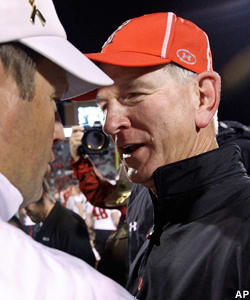 Texas Tech's Sept. 8 road game against Texas State may be broadcast on the Longhorn Network, an athletic department source with direct knowledge of the situation told RRS.com's Chris Level and Aaron Dickens on Thursday.
ESPN announced earlier this month that the game would be carried on one of its platforms, but did not specify which.
Tech learned of this possibility several days ago, and according to the source, is "adamantly opposed to playing on the Longhorn Network" and is "putting serious consideration into canceling the game and playing an 11 game schedule" this fall.
"We are extremely disappointed," the source told RRS. "Our hope is that the Texas State game will be played on a primary ESPN platform."
While Tech would face a significant buyout if it canceled the game, there is no NCAA rule mandating that teams play 12 games a season.
Contractually, the Western Athletic Conference, of which Texas State is a member, has the right to determine the broadcast partner for the game. Tech, however, has always expressed reservations about appearing on the Longhorn Network. Last year, ESPN approached the university about airing it's conference game against Texas but Tech refused.
Last year, the WAC recognized the Longhorn Network as an official ESPN platform after the network agreed to air all six of UTSA's 2012 home games.