Redshirt Report: Ondre Pipkins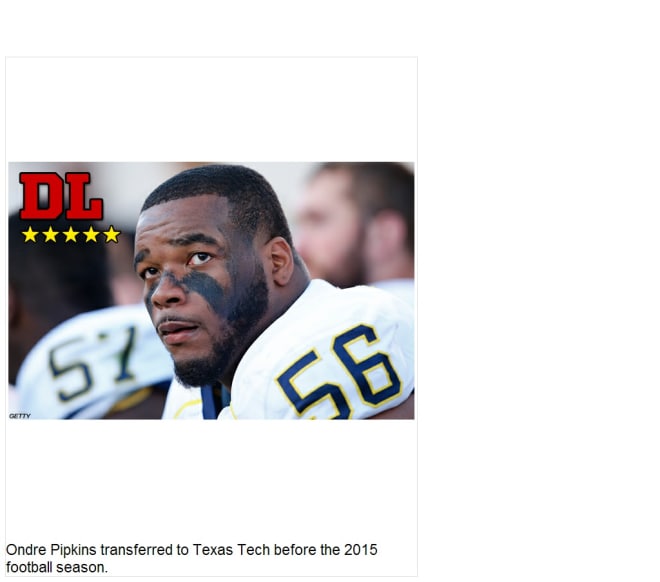 Texas Tech still has one more game left in its 2015 football season, but soon
the Red Raiders' focus will shift to the future. The program redshirted 15
newcomers this fall, and all of them should factor into Texas Tech's 2016
campaign.
Today, we continue our series profiling those redshirting newcomers with a look
AS A RECRUIT:
Pipkins didn't join Texas Tech as a recruit, of course. The former five-star
prospect signed with Michigan as part of the 2012 class and was a three-year
letterman for the Wolverines, appearing in 23 games as a reserve and logging 23
total tackles. Pipkins announced his decision to transfer to Texas Tech in in
July and sat out the 2015 football season due to NCAA rules. He has one year of
eligibility remaining and will be a fifth-year senior in 2016.
QUOTABLE: "He has looked good. He came in at about 345 pounds.
I told him I wouldn't start practicing him until he hits the 320s, so he got
down to about 322 so he started practicing. He got the most reps in practice
just a couple days ago. I sprinkle him in here and there. It is surprisingly
crazy how twitchy he is for being that big. It reminds me of a lot of guys in
the NFL. He is extremely strong, he has just got to do a good job of protecting
that knee. He adds huge value to the room because he has played the game, he
understands the game of football. He is a grown man, he doesn't mess around. He
does his work in school and is never late to meetings. He is just a professional
and that is refreshing to see. When you have a bunch of young guys in there
trying to get adjusted to the college life and trying to figure everything out,
he is my grown man. I call him 'Papa Pip.' He is refreshing, and we are going to
need him next year. I wish I had him this year. He is a big body that eats up a
lot of space, a lot of blockers and makes things happen."
-- Former Texas Tech defensive line coach Mike Smith
WHAT TO EXPECT IN 2016:
Pipkins needed to and still needs to drop some weight. He's expected to be an
interior option on that defensive line that is hopefully more productive than
Rika Levi was over his career. Pipkins will be in that rotation next season but
his production and effectiveness will largely depend on his conditioning. I
think of the two transfers on defense there is a higher expectation internally
for Kolin Hill, but Pipkins will certainly add some much needed depth for a
group that will be very, very young in 2016. -- Chris Level