Lost recruits: Players cant find school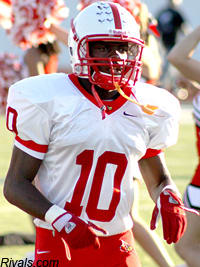 Last weekend, they found out just how tough a task that can be.
But they never got there.
The never even got, in fact, to West Texas.
"(We) didn't use a GPS, and we didn't even know we were going the wrong way," Lauderdale said. "So we were driving (and we ended up) in East Texas."
The group didn't realize their mistake until they found themselves in Nacodoches, Texas - which was roughly 100 miles east of I-45, the road they should have been on, and still more than 500 miles from their destination.
The players, in fact, were roughly an hour away from the Louisiana border. Texas Tech, meanwhile, is roughly an hour away from the New Mexico border.
Texas Tech officials are not allowed to comment on recruits before National Signing Day. But they remain confident they will be able to find their way around the football field, even if roadways have proven to be a little difficult to navigate.
Lauderdale, good spirited about the mishap, remains confident in his commitment to Texas Tech. And confident in his ability to find the campus.
"We're (still going to) go down there this spring," he said.
And presumably, next fall - provided he can find the way.