Competition is fueling Cantrell, Techs offense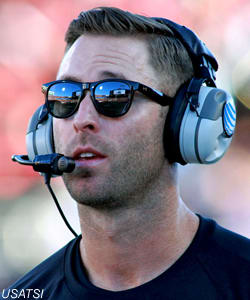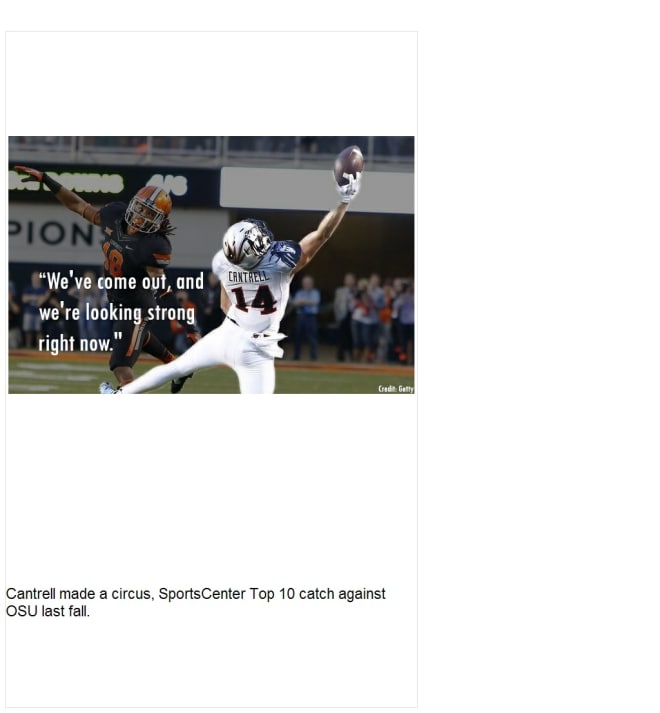 Texas Tech's offense had their fair share of problems last season, and it was well documented by the fans, the media, and even the coaching staff. Turnovers and penalties took the big headlines for most of the 12 game schedule, but one of the underlying issues was the receiving corps in its entirety.
However, the third edition of the head coach's unit could be drastically improved if the strides supposedly made during the offseason ring true when the Red Raiders walk out of the tunnel at Jones AT&T four weeks from Saturday.
"I think we've started off really well, especially compared to the last few seasons. I know it's hot out here, and people come out sluggish at first a lot of times, but I really think we've attacked every practice. Speaking from the receiver group, we've come out, and this is the hardest we've been working since I've been here. Every one of us is coming out, attacking every day, trying to get better, just competing every day, and we haven't had guys tapping out. We're fighting through bumps and bruises and the heat. We've come out, and we're looking strong right now."
And it's not like every coach and player in the country don't pump up their offseason workouts. At Big 12 Media Days, you might as well hand out a script to every participant that shouts, "We got better this offseason!"
But, Cantrell's not speaking the press release-jibberish that usually follows the summer as players transition into fall camp. No, he's a junior that experienced last season first hand, and he's been through his third full out-of-season training regimen. You can tell he truly saw a change, and it's paid off now that Tech is two sessions deep into padded practices, the hardest adjustment period for each player going into the season.
"This year, it's like we've been wearing pads for a month now, been practicing for a month now. We have so much experience back right now. We roll right into things. There's not a lot of teaching right now. We know what we're doing. It's sharpening up everything, and we're looking good right now."
Returning 13-15 players on the offense that have all seen meaningful snaps is a vital component to the smooth transition into the preseason, too. Guys don't have to go through a full install of the offense, and it's something the coaching staff has noticed, too.
"You can definitely tell its year three, and we're more comfortable in the offense," said OC Eric Morris. "Less teaching besides the fact that we have a lot of freshmen that are competing for jobs right now, so that's a good thing to see. They haven't busted. Some of these older guys know they're right on their tails. Competition is what you want in all these practices. It makes everyone better."
In fact, it's that competition that's seemingly been fueling the last seven months of Texas Tech football. It's been a shot of adrenaline to the program, boosted both by veterans with one last shot to prove themselves and a wave of talented incoming freshmen that have finally created some legitimate depth for the offense.
"They're doing well, inside and outside, showing some good things. All the guys have picked up the offense pretty quickly, and they're ahead. I feel like some of them are ahead of where I was when I came in here, so I just try to work with him, and anything I can help them with, show them, try to help them out, I will. But yes, they're looking good right now."
"They can both go get it. That's for sure. I know Tony has been getting a lot of screens in practice, and he's got some moves, showing what he can do, and it's just fun to watch those young guys come out here. They're a little unsure of themselves sometimes, but it's just fun to watch them come out here and compete. Even if they make a mistake, they're going full speed, but they're looking good."
"We've just come out every day, and we're just competing. We're feeding off each other, having good days, stacking good days on top of each other. I try to push him, he pushes me, and we just make each other better."
Both players have showed flashes of greatness so far in their careers out in West Texas, both having at least one Sportscenter Top 10 highlight already. But the consistency has been the issue, and that's what they're both striving towards.
"I think we both can get better at everything, and that's just what we try to do every time we come out. We work on everything, work on releases. Personally, I've just been working on getting sharper with my routes, working my releases, and like I said, we're just coming out here every day and competing, just having fun."
Iron sharpens iron as they say, and we'll see just how much wood Texas Tech can chop on Sept. 5.