Joseph is commit No. 14 for 2019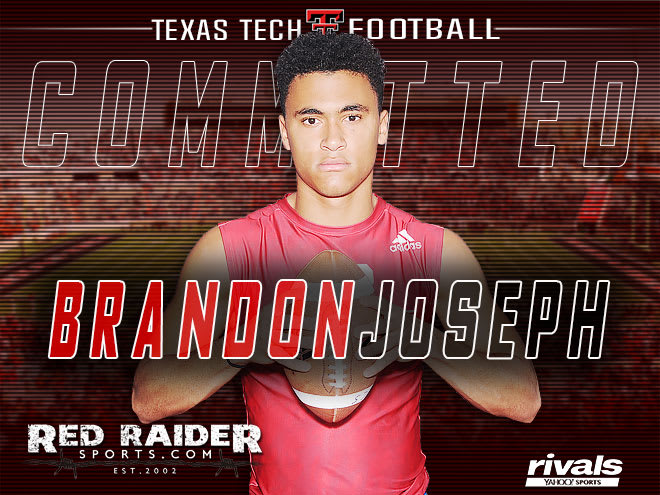 College Station safety Brandon Joseph announced his commitment to the Red Raiders on Monday afternoon, becoming the 3rd defensive back and 14th overall commit of the 2019 class.
Joseph said the biggest thing for him in deciding to become a Red Raider was his relationship with the coaching staff at Texas Tech.
"I have got a really good relationship with all three of my position coaches on defense, coach Gibbs, coach Dewhurst and coach Jennings. Coach Dewhurst, when he first got a hold of me, he called and said 'we're going to come watch you in the spring' and they came to spring practice. That's when they offered me, and actually coach Gibbs and Jennings came before spring practice for a workout.
"So I always could see how much interest they had in me, two coaches including the defensive coordinator show up at your practice, that means they really mean it. So they offered me and then they came back to watch me practice multiple times throughout the spring, I just saw that relationship they wanted to have, I saw how they were constantly coming out to see me. I didn't really get that from other schools.
"On my official visit I was able to talk to coach Kliff Kingsbury, and even further develop my relationship with the staff. I love the relationship I have with all the coaches and I think I can do great things with them."
Joseph verbally committed to the Red Raiders coaching staff on Sunday, and the staff was thrilled to hear about his decision.
"I called coach Dewhurst to let him know and he was pumped up and excited to finally get me in there, and then I also called coach Gibbs and Jennings and they were all fired up. They all said they were ready to get me out there and get this thing going and I'm looking forward to it."
Other than the coaching staff, there were many other positives about Texas Tech that attracted the versatile defensive back towards the Red Raiders.
"Every school has the facilities and all that other stuff but I just loved what Texas Tech can do for me, the coaches and how they can develop me. I liked how they aren't just going to use me as a free safety, they're going to use me as a true defensive back and even work me in at corner. They're going to see my abilities and put me in the best position to succeed. I also really like the defensive scheme, that was intriguing for me. Then on top of that they also have the top notch facilities and academics they provide. So there was just a lot of positives about Texas Tech."
Speaking of academics, Joseph has offers from Columbia, Cornell, Dartmouth, Harvard, Penn and Yale among others. So what is he going to study?
"I plan on studying Business or Sports Management, maybe Kinesiology, but I'm kinda leaning towards Sports Management right now. So with the Ivy Leagues, I always thought in my head I loved the academics but with it not being a full ride I wasn't sure, and I always wanted to stay close to my family. So Texas Tech worked out better than any of the Ivy League programs."
Joseph took his official visit to Texas Tech from June 8-10, and was pretty sure he wanted to commit to Tech back then, but didn't as he still had officials scheduled to Northwestern and Arizona. After taking all 3 official visits, the choice was clear for the hard hitting safety.
"When I went on my official visit back in June I loved it, but I still wanted to see and compare everything to my other visits with Arizona and Northwestern. There are just so many pluses about Texas Tech, I made a whole pros and cons sheet with my parents, and Tech had so many pros it was hard to pass up. Plus, with my previous interest I had in Tech, there were just so many good things about the opportunity."
Now that Joseph is committed, he does plan on helping out in recruiting his future teammates in any way possible. One particular player he has already spoken to is Mansfield Legacy DT Enoch Jackson, who on Sunday listed Texas Tech in his top 3.
"Yeah I'll talk to the coaches and see who else we're looking for, and I'll be trying to convince others to join up. I've already talked to a few, including Enoch Jackson who just put Tech, Arkansas and Clemson in his top 3. He was on the official visit with me so that's how I know him, but yeah I'll talk to the coaches and see who we really want. I'll be out there trying to recruit for sure."
The 5.5 3-star rated safety committed to Texas Tech over offers from Arizona, Northwestern, Iowa State, Colorado, Purdue, Utah, Vanderbilt and others.